Primary eNews – Friday, January 18, 2019
Welcome to Our New Students
We welcomed five new students to the Primary School at the the start of Semester 2. They have all made positive starts to their time at Bali Island School both inside and outside of the classrooms.
Grace from Australia and Frederic from Singapore in Pre School.  
Emiliano from Mexico in Kindergarten
Hannah from Australia in Grade 1
Enlil from Thailand & France in Grade 2
Common Sense Digital Citizenship
All Primary Teachers have recently completed online training for the Common Sense Digital Citizenship Programme (https://www.commonsense.org/education/digital-citizenship). Grade 2- 5 teachers will begin teaching Digital Citizenship to their students in the coming weeks. Teachers will also aim to share parent resources to support the learning taking place in the classrooms so that parents can follow up at home.
An Overview of Common Sense Digital Citizenship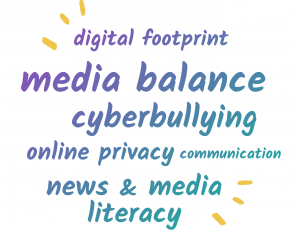 Children today are using the immense power of digital media to explore, connect, create, and learn in ways never before imagined. With this power, young people have extra
ordinary opportunities, and yet they face potential pitfalls, too. Meanwhile, schools are dealing with the associated ramifications — like cyberbullying, digital cheating, and safety and security concerns. These issues underscore the need for students to learn — and for teachers to teach — digital literacy and citizenship skills.
Common Sense Education's FREE Digital Citizenship Curriculum empowers students to think critically, behave safely, and participate responsibly in our digital world. These 21st-century skills are essential for students to harness the full potential of technology for learning. Taught by classroom teachers, librarians, technology specialists, health educators, and guidance counselors around the world, our K-12 curriculum:
Introduces reliable, research-based information to students about digital media and their impact

Offers a comprehensive yet balanced approach in addressing safety and security concerns, including ethics and behaviour issues, as well as digital literacy skills

Includes research-based lessons based on the work of Howard Gardner and the GoodPlay Project at the Harvard Graduate School of Education

Provides student-centered, media-rich lesson materials that emphasise skill building, critical thinking, ethical discussion, media creation, and decision making to students of all ages

Addresses the whole community by providing materials to educate parents and families about digital citizenship

Satisfies criteria for CIPA E-rate compliance

Aligns to the Common Core State Standards, the International Society for Technology in Education's National Education Technology Standards (ISTE's NET•S), and the American Association of School Librarians (AASL) Standards

Includes rich professional development resources such as tutorials, videos, and webinars
(Source. www.commonsense.org)
9 – 10 BSSA Basketball
The 9 – 10 BSSA Basketball competition will commence next week with our teams playing at Bali Island School. A full schedule of the season's games along with permission notes for travel to away games at Dyatmika will be available on the Grade 4 and Grade 5 class blogs and have also been sent home today with the students.
After School Activities
All Primary activities except for one ran this week and all activities will be running next week. A huge thank you to to the teachers who are putting so much time and effort into running quality ASAs for our students with some of our staff running additional activities so that our students have a wider choice as possible.
Scholastic Book Club
The BIS Library distributed Scholastic book catalogues to all Primary classes this week. Strictly optional, these catalogs provide an opportunity for you to purchase new books for your child to own at a reasonable price. All of the information needed to order is contained in the letter and order form accompanying the catalogue. If you do decide to order, please ensure the amount of money submitted matches the total needed. Orders are due Friday, February 1st at the latest. If you need further information, please do not hesitate to contact me at nmarshall@baliis.net. Thank you. 
Attendance
Congratulations to the following students who received certificates recognising their 100% Attendance in Semester 1 at our end of Semester Student Assembly.
Kyra and Franz in Kindergarten 
Gordon and Harry in Grade 1
Sienna in Grade 2
Aahaan in Grade 3
Nina, Ella, Oliver and Stella in Grade 4
Sophie Key and Carl Dominic in Grade 5
ACER ISA Information
Students from Grade 3 – 10 will participate in the Australian Council for Educational Research's  (ACER) International School Assessment (ISA) on Tuesday 12 and Wednesday 13 February. The ISA is designed specifically for students in Grades 3–10 in international schools and schools with an international focus, whose language of instruction is English. Around 90 000 students from 400 schools worldwide participated in ISA 2017-18.
Families will receive a report for each student that completes the assessment.The school receives extensive data on the students' performance which allow us to not only look at individual student and cohort achievement and growth, but to also look at areas of strength and areas that require improvement in our programmes.
Specific information for Grade 3 – 5 families will be sent home before the end of the month
Schools use the ISA because:
it is not specific to a single curriculum;

it tests core skills in mathematical literacy, reading, writing and scientific literacy;

the test material is eclectic, drawing on many cultural and national sources;

the assessments are designed with the knowledge that more than half of the test takers have first languages other than English;

it includes writing tasks and open-ended questions to better illuminate students' thinking processes;

it provides diagnostic information that can be used at the school, class, or individual level;

performance on the ISA can be related to international benchmarks;

they can evaluate the reliability of their internal assessments and confirm that they are aligned with international expectations of performance;

scaled ISA scores enable monitoring of student performance over time; and

it enables comparison of the results of their Grade 8 ,9 and 10 students with the PISA results for each country that participated in the latest PISA administration.
(Source. https://www.acer.org/id/isa/about)
Math Enrichment for all
Clendening and Davies [Clendening CP, Davies RA. Challenging the gifted: curriculum enrichment and acceleration models. New York (NY): R. R. Bowker Company; 1983. [Google Scholar]] define "Enrichment" as:
… any learning experience that replaces, supplements, or extends instruction beyond the restrictive boundaries of course content, textbook and classroom and that includes depth of understanding, breadth of understanding and relevance to the student and to the world in which he or she lives. (p.4)
 The  Math enrichment programme at BIS was an experience for both the teacher and the students on how to interact with and in a small group of students closer than in the classroom setting. This is a way of nurturing students to keep them enthusiastic and to help them discover their potential in Math.
At BIS we love math—using it, talking about it, and especially experiencing it. We think math is exciting, fun, and interesting! Every day, students are eager for greater challenges attend Math Enrichment to broaden their math knowledge and learn more . They work in a small group in a unique combination of mental, verbal, visual, tactile, and written exercises. Our Math Enrichment program  also helps them build number sense by showing them more than just how numbers work.
Our goal is to provide our students with a foundation of deep mathematical knowledge and agility of thought that will serve them well throughout their entire lives.