Secondary Newsletter 16 – November 15, 2019
Message from the Principal
CAS Corner
Counselor's Corner
Almost Maine
Music 4 all
Grade 11 Language & Literature 
Message from the Principal
Thank you to all parents who attended 'Almost Maine' on Thursday evening. It was a wonderful event enjoyed by all in attendance. Thank you to Ms. Alborn for her work in producing and directing such a wonderful advertisement for the Arts at BIS. Well done to all of the cast and crew for their creativity, commitment and dedication to make this show such a success.
It was great to see so many Grade 6 & 7 parents come into meet with Mr. Collins and their children to learn about and discuss a new Mathematics problem solving initiative. I look forward to following the problems, strategies, discussions and sharing that could be a great platform for parents to become more actively involved in their children's learning. We look forward to hearing about your interactions while learning and solving problems with your children. 
CAS Corner
by JaeYeon Lee 
The annual Bali Math Competition. BMC takes place in early November usually after BaliMUN. Although I have enough time to get ready, she said it was a good idea to start early. To organize an event by myself comes with a huge responsibility, I knew I couldn't organize this alone so I decided to get help from some of the grade 11s. I really hope that I don't fall behind schedule and make sure that I really use my time management skills to use my time wisely throughout the organization. With the help of the grade 11 students, I have shared my past documents and spreadsheets to help them organize.  I've already done the paperwork beforehand such as the invitation letter, registration forms, and details. I also created a list of schools along with their email addresses beforehand so all I had to do was to write an email to all the schools on the list. The group has set an action plan and finalised the documents. We just need to make sure we get emails from different schools and send out invitation emails and organize the deposit payment problem with the front office. I think we just really have to make sure that we reply to emails quickly and work on my communication skills throughout the preparation because thorough preparation is crucial to make sure that everything works out in time.

Almost Maine – Senior Production 2019 
A huge thank you to the community in supporting the Senior Drama Production of 'Almost Maine' on Thursday night. We are very proud of our cast for being such brave, extraordinary performers and shining their light so brightly… 🌟 Congratulations to Griffin, Manon, Amieca, Calum, Ralisha, Radhitha, Cintya, Pablo and our fabulous Stage Manager Selina. Thank you also to our backstage crew and lighting and sound team – Josiah, Carl Dominik, Josiah, Jacob, Charlie, Adi and Avril, and our Arts Technician Pak Agas for creating the northern lights in Bali!
Here are a few production shots for you to enjoy! 
Sarah Alborn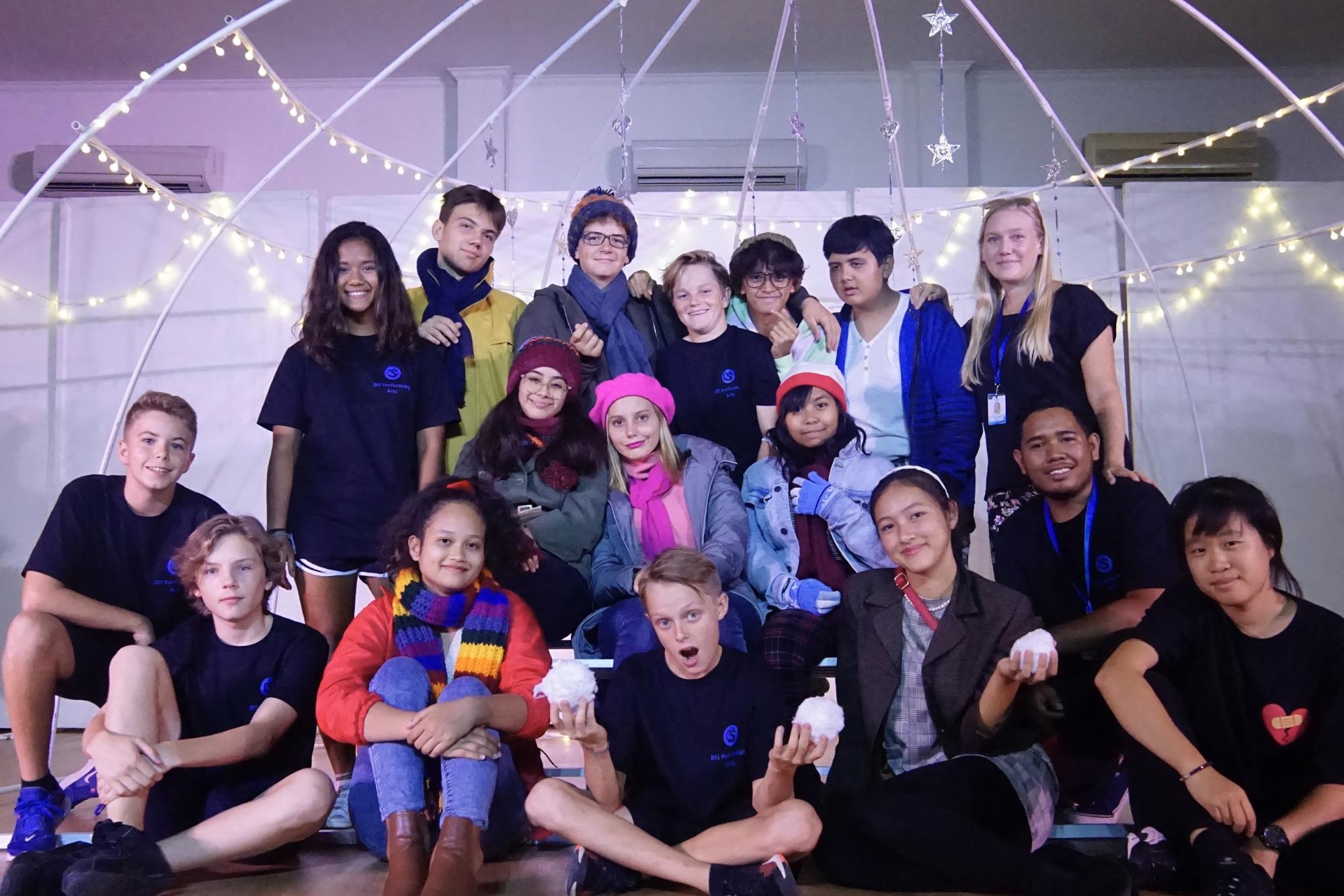 Students in the Service as Action Group 'Music 4 All' have been doing some great work with some students from the local community. The goal of the group is to provide Taman Bacaan students with the opportunity to learn an instrument of their choice. The BIS mentors also hope to showcase the progress of their students at a musical event next term. Here are some photos of a fantastic session that took place on Thursday in MYP Hour in the 
secondary music room. Stay tuned for more exciting news relating to upcoming events from project. 
Tutors: Shieri – piano, Lachlan – guitar, Andy & Mir – drums
Graphics Design: Maxwell
Photographer: Andrey
Grade 11 Language & Literature
Our G11 students are working hard to prepare for their upcoming DP exams!  Today, students broke into pairs and groups to mark a sample Paper 1. In their small groups, students looked closely at the new syllabus' rubric, discussed the Paper 1 sample, and annotated the sample essay response.  At the end of the class, we came together as a group to give the sample paper a final mark and examiner comments. This exercise is super helpful to students to understand exactly what is expected of this in this difficult task.
Mrs. Mac