PTA eNews Updates – October 9, 2020
Quote of the week:
KINDNESS IS THE NEW COOL!
Hi Parents, Welcome to our first PTA eNews. Scroll down the page to find some upcoming events.
PTA Blood Drive
The first PTA Blood Drive of SY20-21 will be held in Term 2 on Tuesday, October 27, 2020.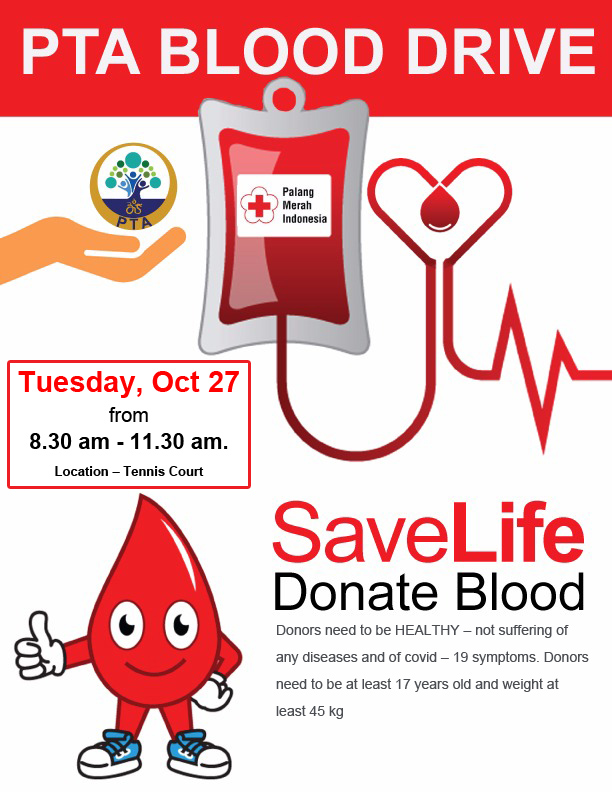 Blood donors do not transmit the COVID-19 virus. Until now there has been no evidence of transmission of the coronavirus through blood transfusions. Donated blood will not be given directly to the donor recipient. The blood will go through several processes of examination, filtering, and separation of components so that it is safe to be given to people in need. However, persons experiencing symptoms should not donate blood.
All Red Cross (PMI) personnel have been tested with the rapid test regularly and declared non reactive

There will be 5 personnel from PMI wearing PPE (personal protective equipment)  level two

Everyone who enters the area of the blood drive activity must wear a mask, wash their hands, check body temperature and apply physical distancing.

All donors must complete all blood drive forms including self-assessment of covid-19 form.

The distance between the tables or beds will be set more than 2.0 meters apart

Donations will be done in open space (BIS Tennis Court) from 8.30 to 11.30 am
Donors need to be
Healthy – in good condition and:
Minimum age of 17 years.
Has a minimum weight of 45 kg.
Hemoglobin levels 12.5g / dl – 17g / dl
Systolic blood pressure 110 – 160 mmhg, diastolic 60 – 100mmhg.
Regular pulse 50-100x / minute.
For female blood donors, they are not menstruating, pregnant and breastfeeding.
Not under the influence of drugs such as narcotics and alcohol and not suffer from diseases such as: Heart, liver, lungs, kidneys, diabetes, blood diseases, blood clotting disorders, cancer epilepsy and skin diseases.

Not suffering from infectious diseases, malaria, hepatitis HIV/AIDs.

Make sure you have breakfast and enough sleep for at least six hours.
Just one blood donation can save up to 3 lives let's be a hero!
LINK TO SIGN UP FOR THIS BLOOD TEST
If you are having a problem with opening this spreadsheet OR if you are not able to attend your booking time slot please WA Ibu Jinae on +62.81.805503125.
Influenza Vaccine
We plan to schedule an optional influenza vaccine at BIS on Monday, Nov 2 2020. 
Influenza season has started in Indonesia. It takes up to 2 weeks to be protected from influenza after receiving the vaccine so we want to give everyone a chance to get the vaccine now and be protected. It will be available to anyone in our community: staff, teachers, parents and students. 
Details
Time: 8 until the finish
Location: Tennis Court
Price:
Less than 20 people IDR 560.000
More than 20 people IDR 470.000
More than 50 people IDR 420.000
(includes vital signs, basic physical exam by Kasih Ibu hospital physician)
Requirements: Signed consent form, please click here for the form. A parent or guardian must be present for any primary students receiving the vaccine. Secondary students can receive the vaccine with a consent form only. Please bring cash payment to school that day. 
The vaccine being given is the FluQuadri, made by Sanofi pharmaceuticals in France. It is a quadrivalent vaccine that contains the same strains as the influenza vaccines currently being given in Asia, North America and Europe. This is not a live vaccine and therefore it is not possible to get the flu from the flu vaccine. Please click the links below for more information on this vaccine.
LINK TO SIGN UP FOR THIS INFLUENZA VACCINE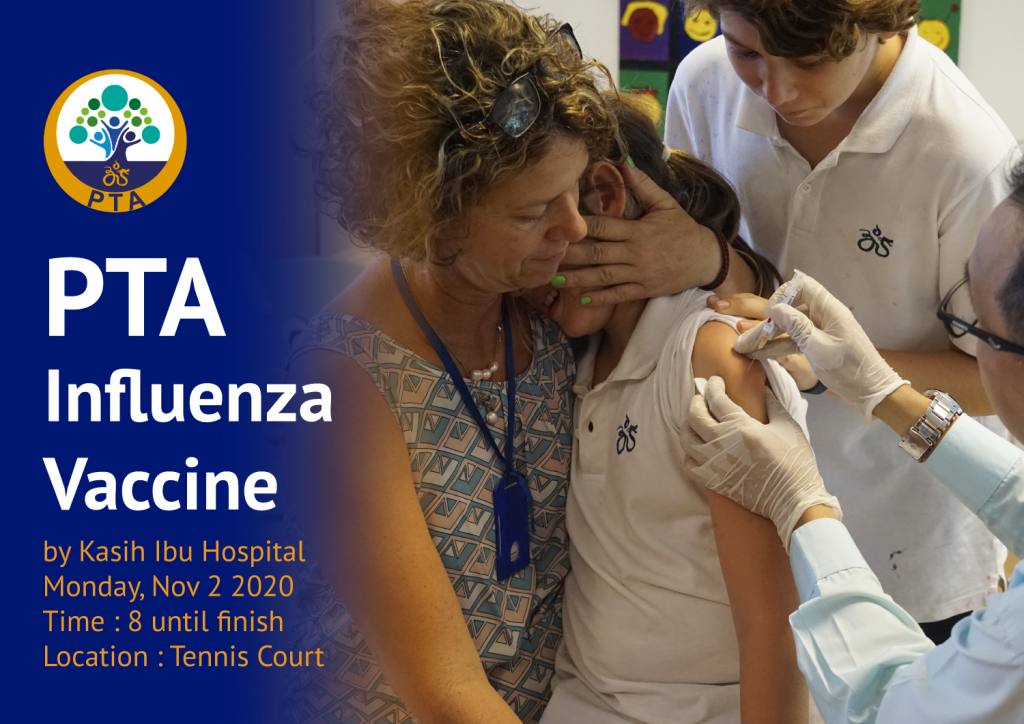 If you are having a problem with opening this spread sheet OR if you are not able to attend your booking time slot please WA Ibu Jinae on +62.81.805503125. For more information about the Vaccine, you can also contact to Ibu Surya, our school nurse at nurse@baliis.net
International Day Celebration
Unfortunately, due to current safety regulations and situations, we will not be celebrating International Day this year. We will, however, move this to the second semester – Hopefully, we will be able to do this face to face but we will all need to plan for both face to face and distance celebrations depending on the situation at the time.
Parents interested in helping to shape this celebration please email us: PTA@baliis.net
More information to follow.
Christmas Fundraiser
Christmas is just around the corner and I think we have some great ideas that you will all love. 
We are in the middle of planning and getting prices so look out on our next PTA news for more information on this. 
We hope you all have an amazing week off school next week, get outside, turn your screens off, have some quality time with family and friends, take care and stay safe
Love the PTA Team