Primary eNews – March 18, 2022
Primary Conferences
Taking time to report on learning allows a time for reflection, an opportunity to celebrate success, and identify areas for growth. Student-Led Conferences and parent-teacher conferences are two approaches to reporting that are used at Bali Island School. 
For our early learners in Preschool, Kindergarten, and Grade 1, parent-teacher conferences were held. Parents met directly with teachers to develop a clear picture of their child as a learner. Teachers and parents worked together to discover strengths, identify learning goals, and reflect on areas of growth and areas to grow into. 
In Grades 2 – 5,  Student-Led Conferences were held which allows students to lead the discussion on their learning. Students from Grade 2 – 5 were able to share the knowledge, understanding, and skills they have gained throughout the year and reflect on the goals that they set back in October. Our students showed that they could take responsibility for their learning as they took time to feedback and feedforward. Students carefully selected pieces of work that showed progress in their learning and gave an opportunity for them to reflect on the knowledge and skills that they have shown or would like to improve upon. Taking time to reflect and share on themselves as a learner is a key skill in creating an assessment capable student that is able to reach their full potential. 
According to the PYP, by taking an active role in their own assessment, students analyse how they think and learn. They develop skills to move from being self-assessors to self-monitors, with the aim of becoming self-adjusters. (Learning and Teaching, IB)
When students monitor their learning, they can adjust their behavior, make corrections and implement improvements allowing them to grow. Students should continue to ask themselves the following questions as they grow and glow as learners:
What do I need to know?

What knowledge and skills do I need to develop in order to answer my questions?

What steps do I need to take to ensure that my learning exemplifies quality?

What further possibilities do I see?

How do I incorporate feedback to achieve my learning goals?
Thank you to all parents and students who participated in our Conferences this week. Students were empowered to discuss their learning and understanding with their parents and teachers, allowing for personal responsibility for their learning while being supported. Students, parents, and teachers collaborated to identify strengths and areas for improvement. Thank you to our wonderful learning community for taking the time to be involved, sharing your feedback, and supporting our school in creating the best learning environment we can.
BIS Primary Student Stands out at BaliMUN X
The 10th Annual Bali Model United Nations concluded back on February 19th with a heavy dose of Bali Island School influence. All told, more than 100 chairpersons, delegates, student administrators/planners, and school directors participated in the two-day, "End of Civilization"- themed summit. The BIS delegation (there were 7 participating schools including schools from Java and Thailand) comprised 35 delegates, one Secretary-General, one Deputy Secretary-General, one Head of Chair Training and Communications, and one Chairperson of the SPECPOL (Specialist Political and Decolonization) Committee.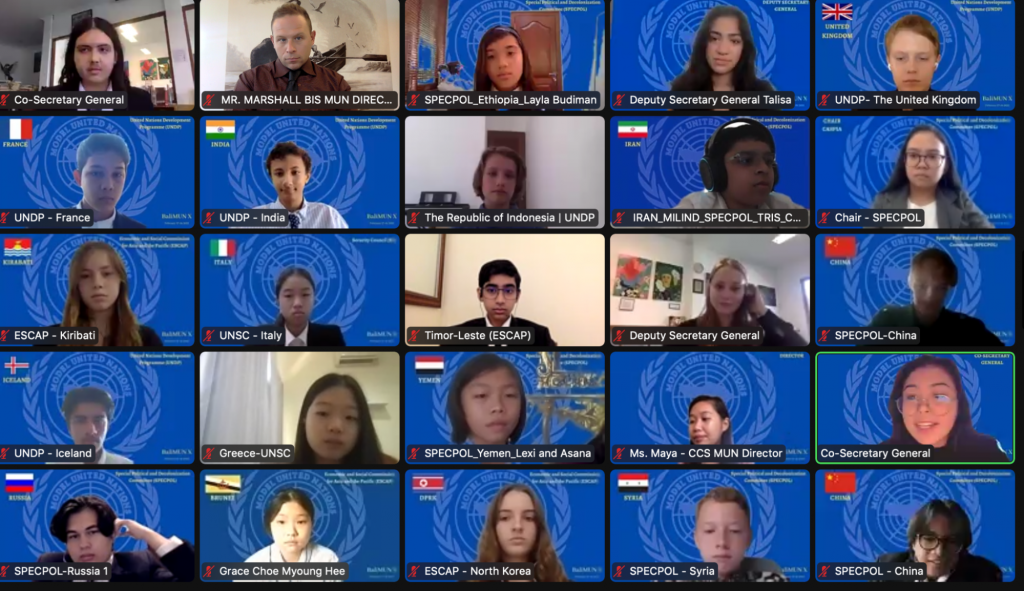 Generally, MUN is reserved for middle and high school students. This year, however, Thomas Ward, a BIS Grade 5 student asked to participate and, having shown to possess the ability to rise to the level of work and time required, was granted permission. It ended up being a great decision on everyone's part as Thomas, who represented Indonesia in the United Nations Development Committee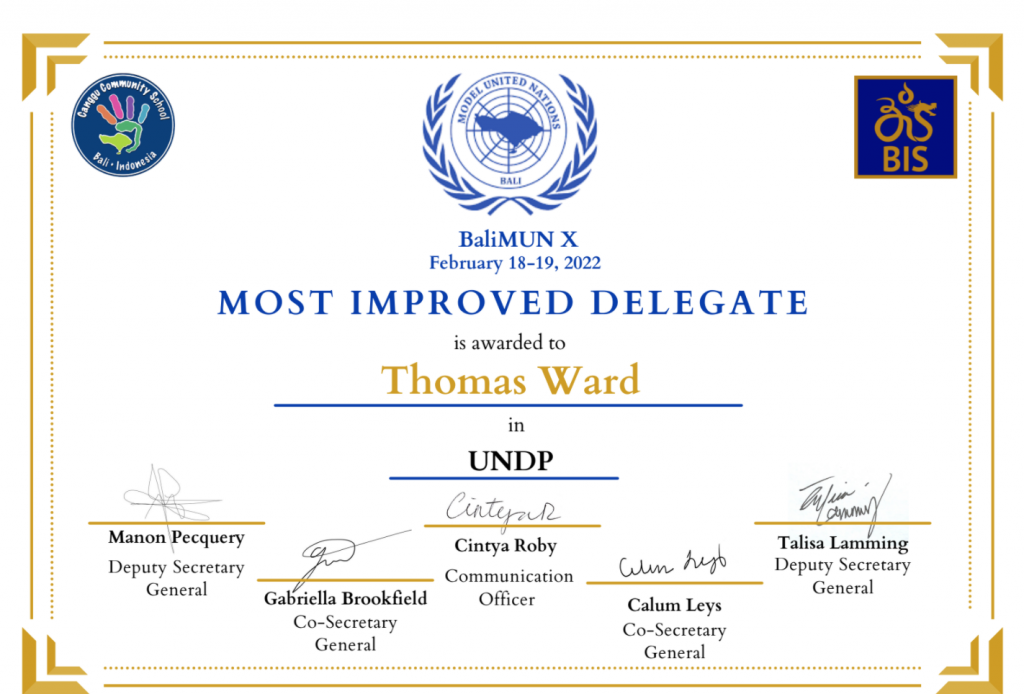 (whose mission is to "Promote technical and investment cooperation among nations and advocates for change and connect countries to knowledge, experience, and resources to help people build a better life for themselves) took home the award for "Most Improved Delegate" over the two day conference period. Thomas's committee focused on two topics, The Future of Farming and The Potential Benefits and Dangers of Cryptocurrencies; Thomas wrote a research Position Paper on the cryptocurrency topic and prepared 60-second opening statements on both topics. Congratulations to Thomas for not only taking a risk to participate but performing at an exceptionally high level that was recognized by his peers. -Mr. Marshall, Librarian
Asking and Answering Questions in Grade 3 Indonesian B Class
Grade 3 Indonesian B class is starting the new unit with the topic of free-time activities. In this unit, students will be developing their language skills, especially by asking and answering questions. Questions are always present in everyday conversation because we want to know something and others want to know as well. For Indonesian language learners, asking questions in the target language is not always an easy task. Students need to remember the question words, the word order, and the sentence structure. Developing this skill will allow students to interact with others, show the interest of the students in listening to what others want to express and also help students to verbalize knowledge. For these reasons, practicing questions is a must in Indonesian class.
As a tuning-in activity, students shared the activities they like and don't like to do in their free time. Here are the samples of their work.
Some techniques that we use in class to practice asking questions are:
Introducing the questions word, using the word 'Apakah….'the response will be 'ya or tidak/bukan', apa, dimana, kapan, mengapa, bagaimana, dengan siapa, berapa jam.

Asking a question to a student. After the students answer the questions, they will repeat the question and ask it to a friend.

Using a stimulus to encourage students to ask questions.
Using the Jamboard, students practice forming questions in Indonesian to get more information about their friend activities. Here are the samples of students' work.
In the next activity, students will develop their speaking skills and gain their confidence in using Indonesian to communicate by conducting a simple interview with local staff about their free-time activities. Ibu Martina – Indonesian B