Secondary eNews – March 3rd, 2023
MYP EVENTS
Please join the celebration of the Grade 10 students' hard work as they share their products at the Personal Project Exhibition on March 10th in the covered courts. Grade 10 parents are invited from 13:30-14:10, while the whole BIS Community is invited to attend from 14:10-14:45.

Grade 9 Parents are further invited to attend an Introduction to the Personal Project information session on Tuesday, March 14th, from 13:30-14:45 in the downstairs library.

ENGLISH LANG/LIT DEPT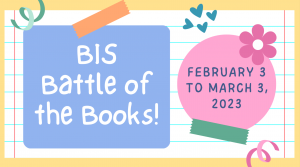 It's Book Week at BIS, which is always an exciting time for the English department. In addition to their regular units of study, MYP students have been encouraged to work together as a class to "out-read" other classes in the first BIS Battle of the Books.

The purpose of Battle of the Books is to encourage students to read outside of the genres they normally choose, as well as to increase their overall reading time. To do this, classes have been given a 16-square grid of interesting 'categories' of books, such as "a book written by an author under 30" or "a book with alliteration in the title."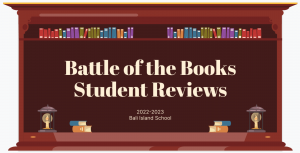 In order for a student to claim one of the squares, s/he must have completed the book during the month of the competition and must also complete a book review about it. Reviews in Grades 6-8 have been posted in their usual Reading Goal Challenge spaces/website, while those from Grades 9 & 10 are being printed and displayed to share recommendations with the student community. 
Since no individual student can claim more than 3 squares, the students have really had to collaborate, negotiate, and communicate well with each other as they decide who will complete each category to maximize their chance of winning. 
Students have been competing in three brackets:
Grade 6A versus Grade 6B

Grade 7 versus Grade 8

Grade 9 versus Grade 10A versus Grade 10B
The winners in each bracket will win a pizza or donut party in their class. Ask your child about how they have participated and whether their class won!
Grade 8 English LAL students have been learning about persuasive techniques and how to inspire their audience to take action on important issues affecting the BIS and global community. Students began by brainstorming and exploring a variety of social issues. They then chose an issue of importance to themself and then began researching how they could inform their audience to better understand their issue and take action to create positive change.
To present their issue, students created a public service announcement (PSA) in which they utilised a range of persuasive techniques they learned. Their message was strengthened through their use of words, music and images.

As their peers were the target audience for their PSA, students received feedback directly from their peers after their presentations. To further extend the message in their PSA, students were also given the opportunity to extend the PSA's message in a short question and answer session after each PSA was viewed.  As the issues presented have a direct connection to the BIS community as selected by the students, we are hopeful that the class is inspired to take action on their peer's initiatives. 
COUNSELOR UPDATE

BIS CAREER WEEK 2023
Thank you to all parents that supported BIS Career Day last week, in conjunction, the Grade 10th will be doing Career Week scheduled on April 10-14. Each year, students in Grade 10 at BIS are expected to do a minimum of a 32 hour career exploration week. The main purpose of this program is for students to explore their ideas about their future careers by observing and participating in what goes on in a particular profession. This activity allows our students to see how some of the knowledge and skills they are learning in school are applied outside the classroom and if this specific career path is suitable for them. 
We kindly need your suggestions if you know any information about the company/workplace that is potentially available to provide the Grade 10th students experiencing what a career in a real job is. Let us know by sending us an email to Ibu Noortje counselor@baliis.net and Thari counselorsecretary@baliis.net
Thank you in advance for helping us create a meaningful experience for our students. 
Upcoming ACT Test Date and Registration Deadline
Login/Create MyACT account to register
Upcoming SAT Test Date and Registration Deadline
More info /create an account to register SAT
Other Colleges and Universities Update:
Mar 8th | Oxford University Webinar for students and parents/guardians

register here 

Mar 11 | University of Melbourne will be holding the Indonesia Application Day

register here

Mar 28th

| [HKBU Webinar] Visual Arts x Music with Arts and Technology

register here