Secondary Newsletter No. 21 – Friday, January 25, 2019
Dear Parents,
I hope your child has communicated with you about the wonderful Career Day we had on Thursday. I was most impressed with the level of organisation and the quality and diversity of the panelists and the guest speaker, Christine Bader,  was a great choice. The students from StuCo took the opportunity to show initiative and leadership and they did a wonderful job facilitating this event. The idea to have the students dress professionally was appreciated by all and the students took it really seriously, dressing to impress. Students and teachers  enjoyed the sessions and the range of questions they asked showed their high level of interest, curiosity and engagement. This was a most positive event and a really valuable learning experience, not just for the students but for the whole school community.
– Ross Ferris (Secondary Principal)
Counselor's Corner
Summer Opportunities for BIS Students
As we inch closer to the Northern Hemisphere Summer, many of you may be thinking about summer options for your children in Primary or Secondary School and now is the time to apply! There are many educational, fun opportunities out there from summer camps, to leadership programs, to pre-college enrichment programs, to arts and theater programs, to college tours.  In an effort to make the selection process a bit easier for you, we have compiled a list of Opportunities for BIS Students that includes summer, scholarship, and academic year options. This list is regularly updated as new opportunities are sent to us from around the world. Please do not hesitate to contact the Counseling Center with any questions you might have at Ext. 116.
College Fair March 13th
We are excited to announce that BIS will host a (not so) mini College Fair on Wednesday, March 13th from 2:30-3:30 PM in the library. The Fair will be organized by the International Student Network (ISN),  a Philadelphia-based company that provides North American colleges and universities the opportunity to connect with students abroad.
ISN will be visiting  Bali for the first time with a group of approximately 10 universities. The Fair is open to Secondary students and parents and this is a wonderful opportunity to talk to the university representatives one-on-one, ask questions, and learn about college majors, scholarships, and special programs.
Here is the list of the universities attending the Fair on March 13th:
University of Central Missouri, Concordia University, Palomar College, Illinois College, Ferris State University, Full Sail University, Stony Brook University, University of Wisconsin-La Crosse, California State University, San Marcos
– Rachael Gerbic (Counselor)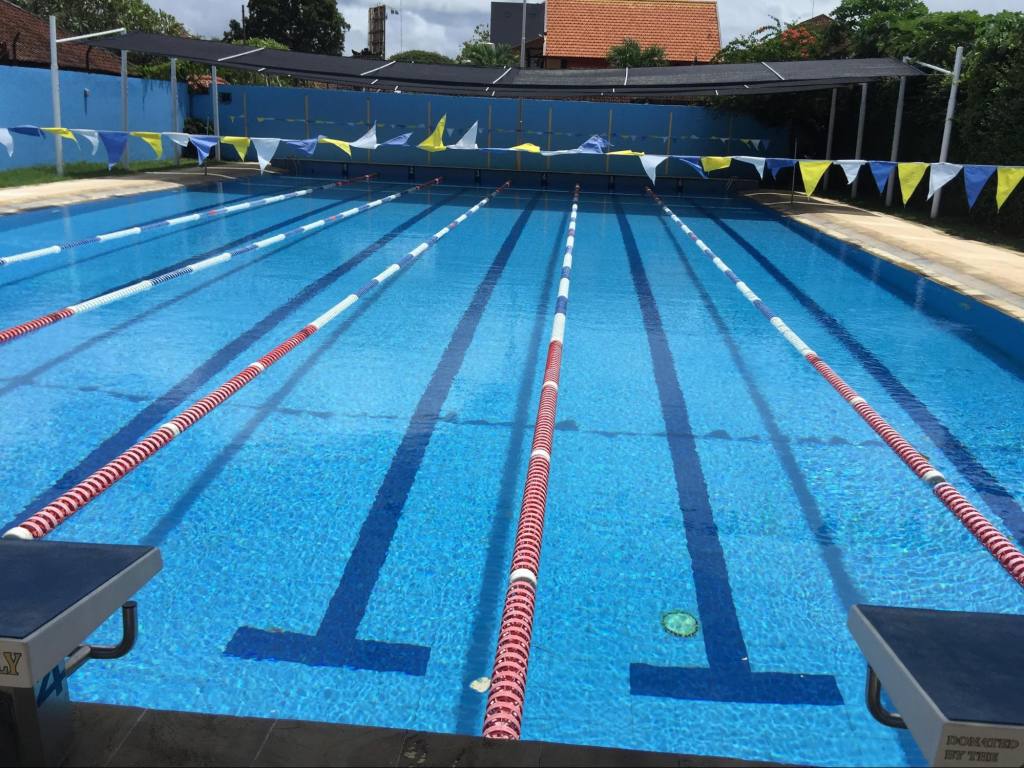 The Swimming Pool Re-Opens: Parent Use
The pool is looking wonderful and primary PE classes and swimming club are underway.
We are now doing all maintenance 'in house' with Pak Agus of our ground staff in charge. Pak Agus has extensive experience with swimming pools and his impact has been immediate.
The pool will be vacuumed and chemicals added every day at 5pm when the school swimming program concludes. This means the pool will be closed to all use from 5pm every day.
Parents are very welcome to use the pool in the mornings until 9.00am and we have a good number of parents who take advantage of this. Make it part of your drop off routine and get your day away to a healthy active start.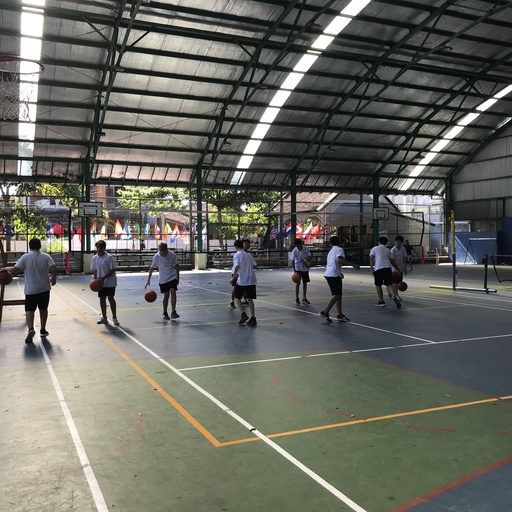 CAS Corner
3 vs 3 Basketball
The 3v3 basketball activity is hosted after school every Tuesday. Through this activity, I hope to engage students who are interested in basketball through direct experience of in-game knowledge. This activity will help players enhance basic skills such as dribbling, shooting, positioning, and defense. Enhancing students skills will also require collaboration. I am collaborating with my teammates to help improve one another. By the time this activity ends, I hope for the students who participate to develop more experience and enhance their skills. A few of the learning outcomes for this activity include:
Identify own strengths and develop areas for growth

Demonstrate that challenges have been undertaken

Developing new skills in the process

Demonstrate how to initiate and plan a CAS experience

Show commitment to and perseverance in CAS experiences

Demonstrate the skills and recognize the benefits of working collaboratively.
This activity has really impacted the people joining in different ways. Starting from the Basketball side of things where it would have really helped them improve their skills as a player and their general teamwork during practices. Personally, this process has taught me how I could be a better coach as well as a leader when trying to teach  drills, as well as giving instructions as previously I have struggled with these skills.
– Nabil Dermawan (Grade 11)
Vanguard Magazine
Through the process of writing the first draft of my first article I have found that my strengths are being able to write a pretty good quality article if the topic is interesting to me. However, through this process I have also found some areas of growth, such as time management as I did end up procrastinating and not writing the article until the last minute.
Through the challenge of writing a feature article I have developed skills such as research skills and communicating skills. I had to conduct a lot of research in order for the feature article to be reliable and not only be based off of the author's opinion and I used communicating skills as I had to make sure that my feature article effectively put my point across.
This feature article allowed me to be engaged with an issue of global significance as it speaks in terms of accurate asian representation in media. This is a topic that can be linked to bigger concepts such as racism which is a highly spoken about issue that is also of global significance as it happens all around the world even to this day.  This year Vanguard will not have a paper copy but we will keep updating the website regularly. Please check our latest articles and creative writing at http://vanguard.baliis.net/.
– Kiara Brown (Grade 11)
MYP Corner
Service as Action Update
Activities are now in full swing as students have signed up to their various groups during Thursday's MYP hour. Whilst these activities are supervised by teachers, it is our goal to hand the planning and managing over to the students. This often can't be done straight away so our role is to guide and support them through this process. Once this has been achieved, students will need to be regularly reflecting on their progress, focussing on their chosen SA Learning Outcomes. These reflections are completed on ManageBac. Supervisors read and approve each reflection and this is added to the students' overall portfolio.
The Digital Citizenship Service as Action group consists of eight Grade 6 students and they have chosen to learn, and educate others, about how to be a responsible and safe digital citizen. On Thursday during MYP hour the students researched and wrote a group article on the term, Digital Footprint.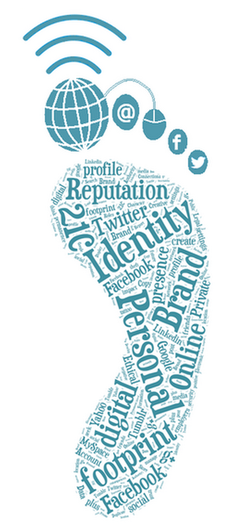 What does the term digital footprint mean? (Tata, Sofiane)
A digital footprint is a trail of data that you leave behind when you use the internet to communicate, research, shop or complete other tasks. It includes the websites you visit, the things you post, and everything you do on the internet. It is also like the footprints you leave in real life. It stays there and it once it is there it is difficult to erase or control. A digital footprint will last forever because people send it to other people and then continues to send it to other people and could end up all around the world (British Council, 2016).
(Image source: https://www.virtuallibrary.info/digital-footprint.html)
What makes up your digital footprint? (Marvel)
Everything you do on the world wide web and social media, including photos, videos, comments, services, e-mails, likes and subscriptions. It can be dangerous and it is impossible to not have a digital footprint so we all should be very careful of what we do online at all times. Whether or not your information is shared intentionally, it's viewable by advertisers, employers, schools and universities who often judge people by their digital footprint (Ericksen, 2018).
What information is appropriate in a digital footprint? (Maxwell and Andrey)
You should only post or like appropriate posts and should not post or share nude photos of yourself or anyone else. People must not make, share or like racist, sexist posts or ones that discriminate against religious beliefs. It's best to only post things you're happy to make public, but that doesn't mean there should be no separation between what you share with the world and with your friends (ParentInfo, 2018).
How can your digital footprint hurt you? (Louis)
If people are not careful, their digital footprint can hurt them in a number of ways. Every picture you post, every status or page you like, and every update you share is essentially announcing to the world who you are, permanently. If you post something bad, It will stay there. There are four ways that your digital footprint can hurt you:
College – College admissions will read your online profile. If you do something bad when you are young, the college may choose not to accept you.

Scholarships – Scholarships will ask for your online profile too. Any immature posts, or cyberbullying will impact negatively on your chances.

Sports – Your sport coaches will check your social media accounts.

Employers & Internships – Employers will also GOOGLE you, your digital footprint may be the only thing that makes you different from other applicants.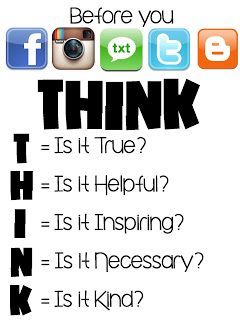 Tips for protecting your digital footprint (Matilda and Charlotte)
Never post anything online that you wouldn't say to someone's face.

When online remember that colleges/employers do check your profiles when you apply

Don't follow random people online

Activity on the internet lasts forever. Think before acting.

Remain positive online

The internet is meant to be used respectfully

Remember to log in and log out of your account

Do not tell anyone your password and don't use a password someone else could guess.

Always be kind!
DP Corner
The importance of being 'idle'
For readers of a certain age the Oasis song will be the first thing that springs to mind after reading the title. If they were in the IB I'm sure they would get called into the principal's office for plagiarising The Beatles. Imitation is the sincerest form of flattery I suppose and Rhys Ifans is a quality actor though. However, the 'idleness' being referred to is actually directed at the Grade 12 students who are preparing for their mock exams. With the help of their homeroom teachers, the Grade 12s have been creating personalised study plans to effectively manage their time and prepare for success on their upcoming exams. Although seemingly counterintuitive, the students have been explicitly instructed to leave blank spaces in their plans to ensure that they have a break, get out of their seats and recharge themselves. Effective planning of what they will do in their study break periods is also extremely important as an ill-thought out break where a student remains seated and in the same environment will not recharge and stimulate further study, but will instead lead to a decline in productivity. When asking to see your son or daughter's study schedule please don't be surprised to see blanks in it and do encourage them to take breaks and ask them to teach you some of the topics that they are studying.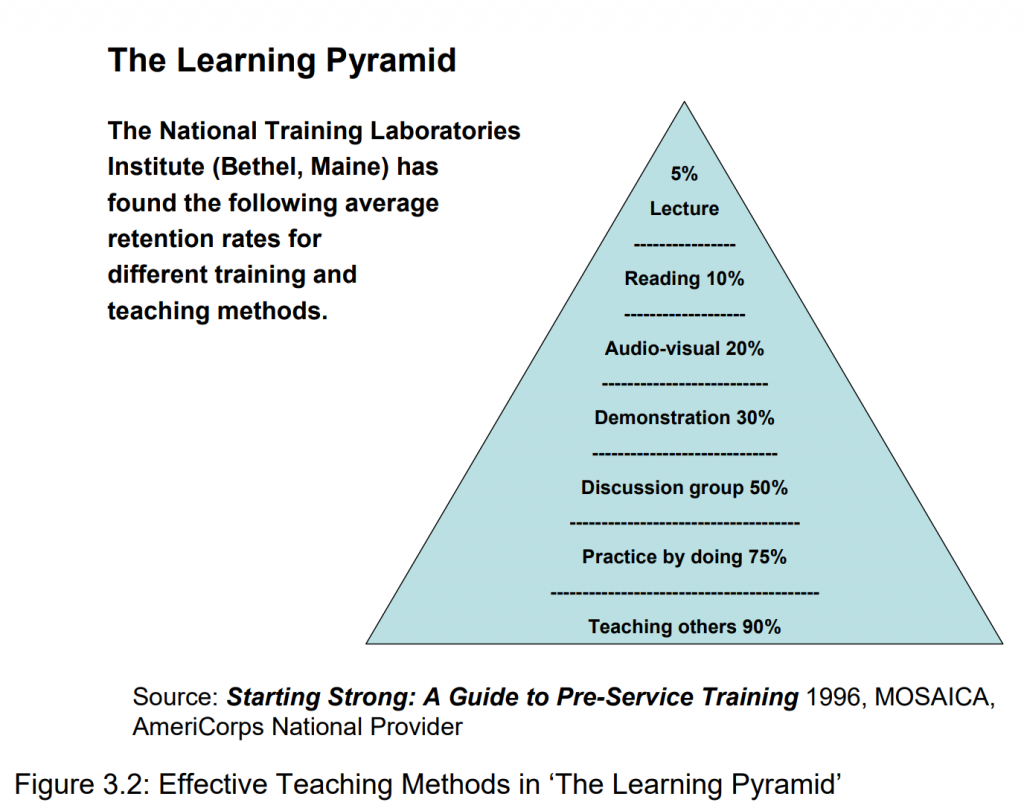 Although the percentages in the diagram are up for debate there seems to be consensus that teaching others is a brilliant way of retaining knowledge. So, ask your son or daughter to teach you, be amazed at the complexity of some of the knowledge expected from them as IB learners and maybe learn something new as well. Some further reading on the importance of breaking up tasks while studying can be found here.
– Matt Wood – DP Coordinator
Arts Announcement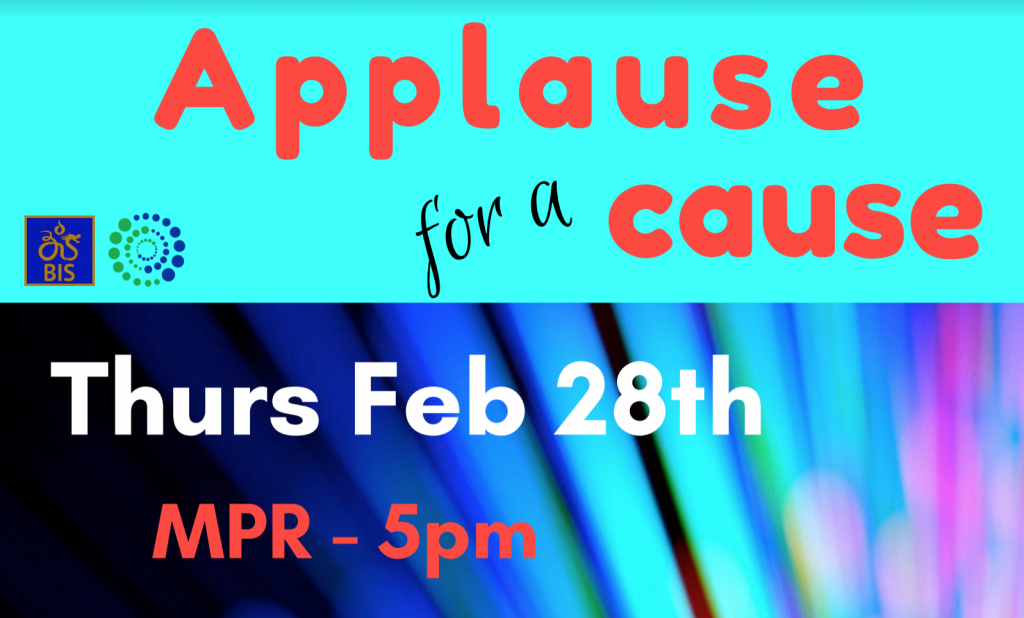 'APPLAUSE FOR A CAUSE' – A date for your diaries!
On Thursday 28th February 2019, 5pm – 7pm, we will hold a charity fundraising performance entitled 'Applause for a Cause'. This is a new and exciting fundraising performance event for the school, in which we will celebrate the creativity and talents of our own students and staff, whilst simultaneously supporting the ongoing needs of the children in Lombok who are still devastated by the effects of the earthquakes. It will be a fabulous opportunity for our school to come together to share a special evening for a wonderful cause.
Tickets will be on sale from 2 weeks before the night!
– Sarah Alborn (Drama and Theatre teacher)
Chinese New Year Celebrations on Friday 1 February   
A Dragon & Lion Dance performance will take place on the covered court from 8:00am next Friday, February 1. Parents are welcome to join for the performance. All staff and students are invited to wear red to celebrate Chinese New Year. 
Works Cited
"Digital Footprint." P2P (Peer To Peer) Definition, techterms.com/definition/digital_footprint.
"Digital Footprint." Wikipedia, Wikimedia Foundation, 23 Jan. 2019, en.wikipedia.org/wiki/Digital_footprint.
"Family Online Safety Intitute." How Technology Helps Us in Our Daily Lives, www.fosi.org/good-digital-parenting/harmful-digital-footprint-impacts-teens/.
"Having a Positive Digital Footprint." What Are Parental Controls and How Can They Help Children Stay Safe Online? | ParentInfo, parentinfo.org/article/having-a-positive-digital-footprint.
Ostrikoff, Lisa, and Lisa Ostrikoff. "How Your Digital Footprint Can Hurt You." HuffPost Canada, HuffPost Canada, 23 July 2013, www.huffingtonpost.ca/lisa-ostrikoff/digital-reputation_b_3325957.html.
"Your Digital Footprint: What Is It and How Can You Manage It?" Rasmussen College – Regionally Accredited College Online and on Campus, www.rasmussen.edu/student-experience/college-life/what-is-digital-footprint/.