Secondary Newsletter 18 – November 29, 2019
Secondary Teachers Say Thanks!
Dear Parents & PTFA Organizers,
On behalf of all the secondary teachers, we would like to extend a huge thank you to parents for one of the loveliest Teacher Appreciation events ever!  We felt totally pampered and appreciated. The food, the drinks, the decor, the notes/video/slideshow, and the massage therapists were amazing. It means so much that you took the time to volunteer, sign up, bake, and buy all the delicious treats.  All those extra little touches (like the table clothes, flower arrangements, premier chocolate bars, and real tableware) truly added to the experience. We are so lucky to work for a school with a community of people who consistently go the extra mile to show their kindness and gratitude.  
Thank you again,
Secondary Teachers
ISTA 2020 Middle School Parents Meeting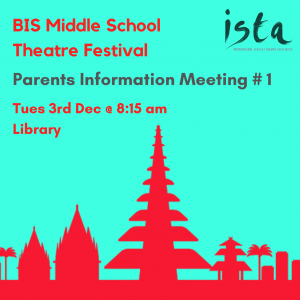 Reminder – Information Meeting on Tuesday at 8:15am  in the Library for all parents of the students signed up for the Middle School ISTA Theatre Festival (March 6-8, 2020). 
We are the only ISTA member school on the island so this really is a one of a kind opportunity – if your child loves drama, acting, performing and having super fun this is for them! 
We still have a couple of places available so if your Grade 6, 7 or 8 child would love to join in then please email me asap – salborn@baliis.net
CAS Corner
by Jessica Wu
BSSA Volleyball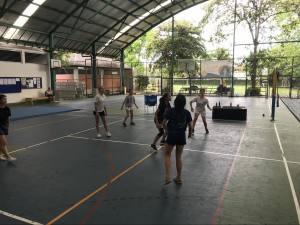 For the second term, I will be joining the girls' senior volleyball again. Although I have quite a lot of past experience from playing last year and the year before that, it's a new sport every time I practice as I am continuously developing and improving my skills, both volleyball skills, and ATL skills. I will also get to work with new people every week and learn from each other. Looking back to last year's volleyball season, there are some specific skills that I would like to achieve for this year or improve them even more. In order to achieve my goal, I will have to use my collaborative, communication skills and stay committed throughout the season. From the past few weeks of practices and games with other schools in Bali, I've identified some of my strengths and weaknesses. Some of my strengths are my over-hand serves and digs. I plan to work on the weaknesses for next week's practice, like: practicing on spiking downwards, setting, and improve on faster reactions.
DP Corner 
Grade 12 milestones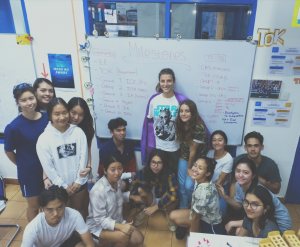 Sometimes it can be very hard to see the wood from the trees. The work never seems to stop, deadlines loom and it can feel like you are spending a lot of time treading water just to stay afloat. Welcome to the life of a DP student. It certainly can feel like that at times but that is why it is so important to stop, breathe, order doughnuts [literally inhaled before we could take a picture] and celebrate from time to time.
Although Tarkan might not look it in the photo, he has a lot to be proud of. Just look at that completed list! Well done guys. Yes, we still have more to achieve but sometimes the best way to move forward is to look back [spoken like a true History teacher] and see the road travelled. It is only then that we can appreciate the journey so far and the accomplishments achieved! 
Grade 11 first major milestone?
The question mark is there because we all have our personal milestones and for some of the Grade 11s just getting up in the morning after finding that your team has appointed Mourinho as your new manager is a milestone in itself… However, I'm sure all the Grade 11s will agree that completing the end of semester exams was a major milestone regardless of football allegiances. 
The exams went off without a hitch and the students appeared well prepared and even smiled from time to time, talk about cool and calm under pressure! Julius Caesar is quoted as saying "Experience is the teacher of all things" and that is exactly what was so valuable about this exam session. The experience. Although the students had been told what to expect and had been well prepared by their subject teachers there is no substitute for the real thing. Students now understand why it is important to arrive at the school well before the exam starts; when to start writing [NOT during reading time!] and how to organise their time so they answer all the questions necessary. These skills are invaluable to students and this experience means that they will walk into their next exam more confident and knowing what to expect.
I promise that there was none of this in our Maths or Biology exams:

MYP Arts Showcase
Students in Grades 8, 9 and 10 shared work from their Arts subjects (Drama, Visual & Music) on Thursday afternoon in the MPR. The students currently in grade 8 & 9 are coming to the end of their first rotation and next semester will move to a new Art subject. The audience were treated to a program consisting of engaging dramatic and musical performances, as well as viewing the beautiful displays of artwork. 
Here are some photos from the event: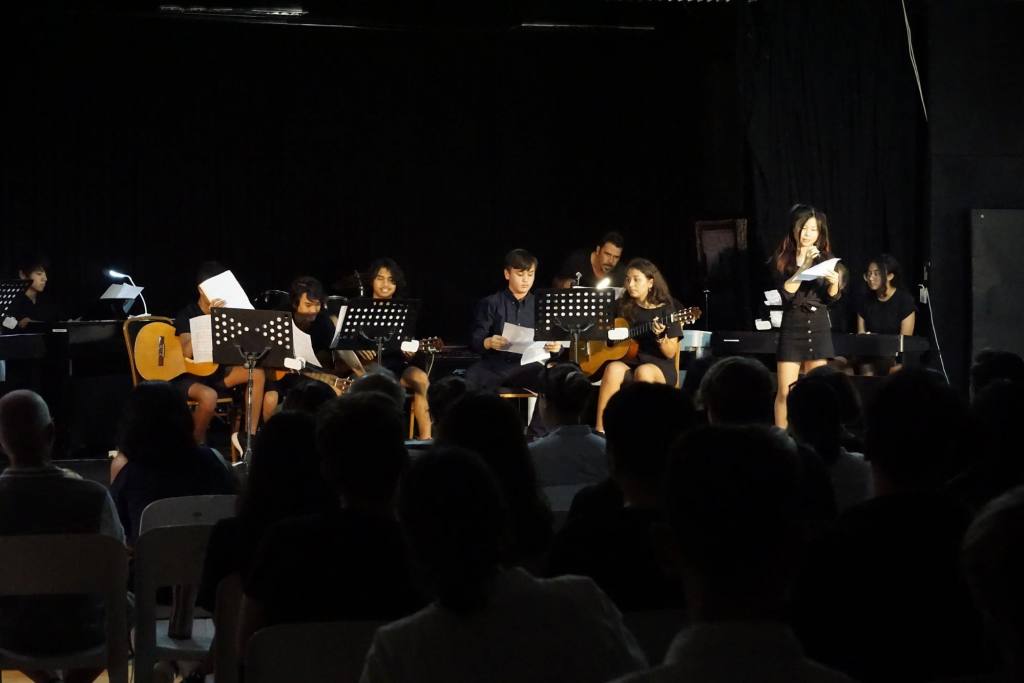 Grade 10 -12 Visual Arts Exhibition Trip to Arts Bali
Nusa Dua
This week grade 10/12 Visual Arts students took the opportunity to visit "Speculative Memories" a contemporary art exhibition currently taking place at the ITDC in Nusa Dua. This event was an excellent opportunity for students to gain first hand experience viewing contemporary artwork from a range of local and international artists as well as experiencing how exhibitions are curated and artwork displayed in order to convey meaning. There was some fantastic and awe inspiring work on display and students appreciated the chance to experience this. While in Nusa Dua we also took the opportunity to visit Museum Pacifica which holds one of the largest collections of traditional art from the South Pacific. This exhibition EOTC was a wonderful opportunity for our students to immerse themselves in a range of awesome local and international artwork and gain creative insight and inspiration for their own work. Here are a few photos of the trip. If you haven't seen the exhibition already…we highly recommend a visit.
Speculative Memories Exhibition – http://www.artbali.co.id/page.php?p=gallery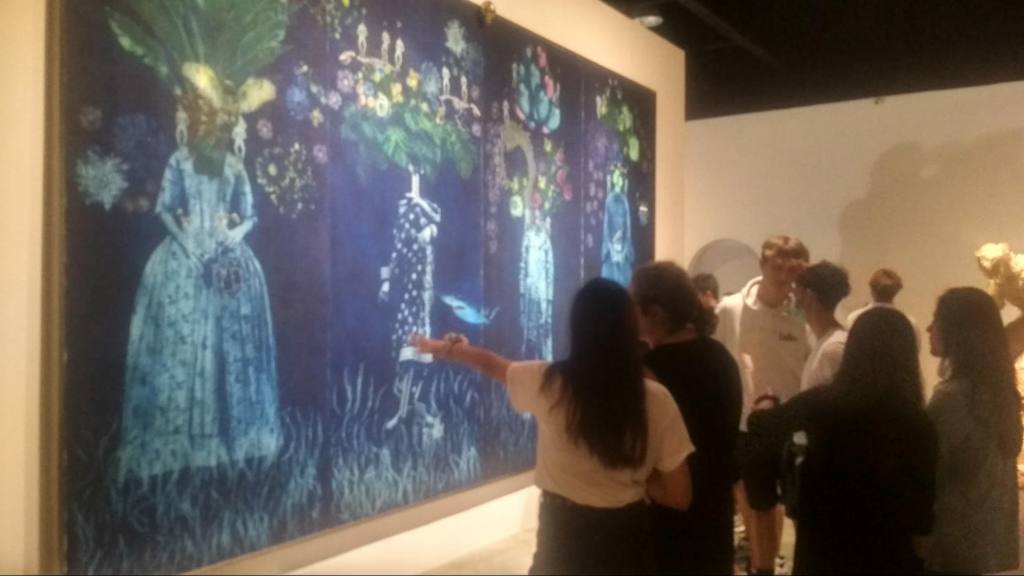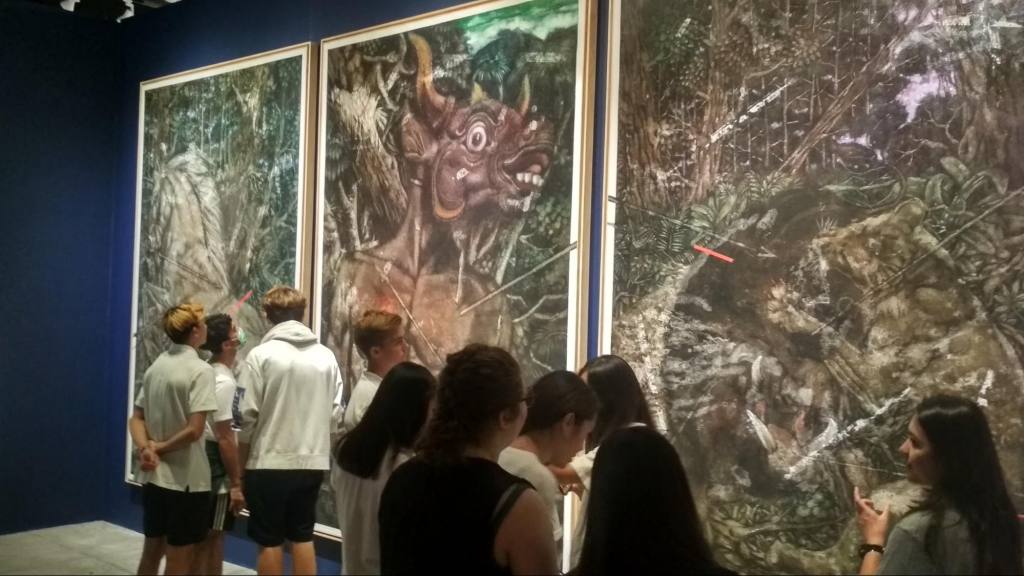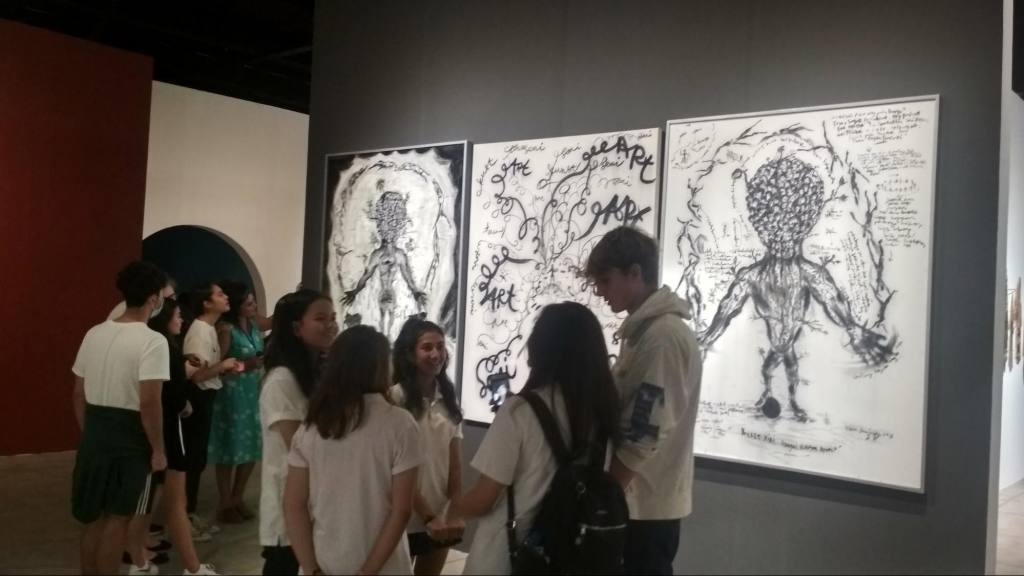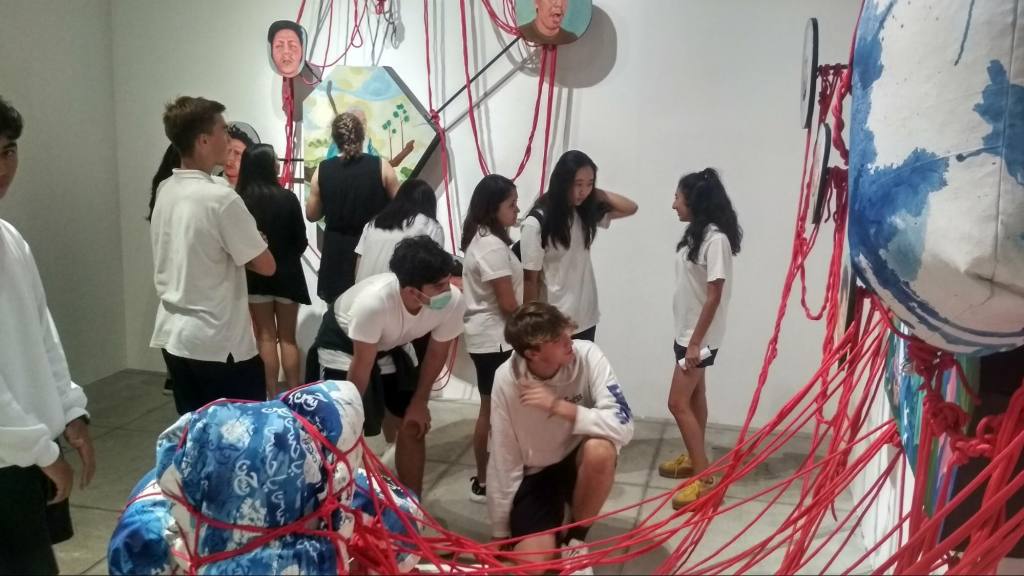 Big Thanks From Mr. Mac:
Hello everyone, 
This is the last week of my teaching practice. Time has absolutely flown by. I just wanted to say thank you for making me feel so welcome and accepting me into your working world. I'm very grateful to the top brass for giving me the opportunity, Mrs. Erickson for being a superb mentor, Ms. McLay for her I&S knowledge, Mrs. Mac and Ms. C for letting me hang around their homeroom and all the teachers who have passed on their knowledge, great advice and valuable experiences. You've all helped to make this period so beneficial and worthwhile. It's been great to work alongside such conscientious professionals. 
Big shout out to you super-talented students, too. You're such a wonderful group of young people. Grade 7A you have a special place in my heart but you are all so enthusiastic, smart and willing to take on a challenge. An admirable bunch for sure. I hope in the short time I was here I taught you a few things and stimulated an interest in the diverse world we live in. It's a shame the PE units were my two worse sports, but that's the way it goes!
I feel very lucky to have had my practice here. I've definitely become a better teacher in lots of ways. BIS is a great community to be part of. Caring parents, skillful teachers, dedicated staff and excellent students. And all of this taking place on the beautiful island of Bali. Could be worse. Thanks again. Hope the rest of term moves swiftly to its conclusion and everybody has a fun holiday.
 Mr. Mac