Primary eNews – May 22, 2020
Grade 2 – 5 Assembly
Today's Grades 2- 5 Assembly allowed us to bring students together with others in the school who are not in their class. I've shared a link for the assembly slide show so you can dive back in and check out those videos again. Please take the time to watch the Grade 3 jokes as I had to cut that short and there are some really funny jokes in there. Please send any feedback to primaryprincipal@baliis.net as I would like to keep improving the Zoom assemblies. I already have ideas to get around the sound issues and a few more fun interactive activities for our students to participate in for the next one. Click to access a copy of the sideshow
Grade 2 – 5 House Art Competition
Please see details below. Students or their parents should email their entires to primarysecretary@baliis.net by 3:00pm Monday 25th May.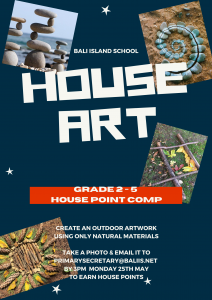 Mindfulness Videos
Our School Counselor, Ibu Rachael has recorded a number of mindfulness videos to build on the lessons she had been leading in the classroom with the students before Distance Learning began. Please click below to access these with your child at home.
Mindfulness Intro and Class # 1
Mindfulness Class #2
Mindfulness Class #3
Mindfulness Class #4 
Mindfulness Class #5
Grade 1 Music Basic musical symbols and elements 
Drawing is excellent to teach basic music symbols and notes. Students can practice identifying music notes, rests, symbols, and parts of the music staff. Grade 1 students have been learning the value of certain basic music symbols (quarter note, eight note and rest). They are able to show their understanding of beat, rhythm and rest by clapping, singing and playing percussion. Going further, they use specific colors to create melody, by coloring the rhythm. The color interprets tune or pitch on musical instruments.
Work on melody by Kyra and Euan :
They also explore even more musical symbols as drawn here : 
Work by Emma :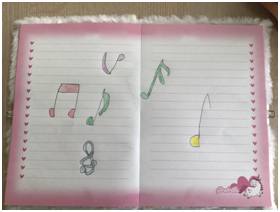 Work by Tom :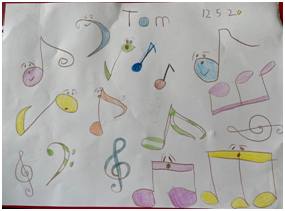 Isti Proboningtyas. Primary Music Teacher
Grade 1 Bahasa Indonesia B
Grade 1 Bahasa Indonesia B is focusing on the central idea "Animals dependent on humans or their natural surroundings for survival". Students are introduced to the vocabulary of domestic animals, wild animals and also the animal habitats. We also learn some adjectives when describing the animals. Lots of learning activities were done to improve their language skills, such as: Memory game, matching card game, reading books, talking about their pets and singing Indonesian songs.
Here is some evidence of students' works. Well done for all of your hard work grade 1.
Ayu Martina. Indonesian Studies and Bahasa Indonesia Teacher
Preschool this Week
The children in Preschool have been exploring forces around them. The children were invited to make a moving toy and use one of the learnt forces to make it move.  Using all their new knowledge and skills the children designed, created, tested, presented and reflected on their final task. The children showed the attributes of risk takers and problem solvers as they tested out their designs ready to learn from their successes and mistakes. Children were able to reflect and talk about the parts that worked well and things that they would change next time to improve or to repurpose their toys. Have a look at their great inventions!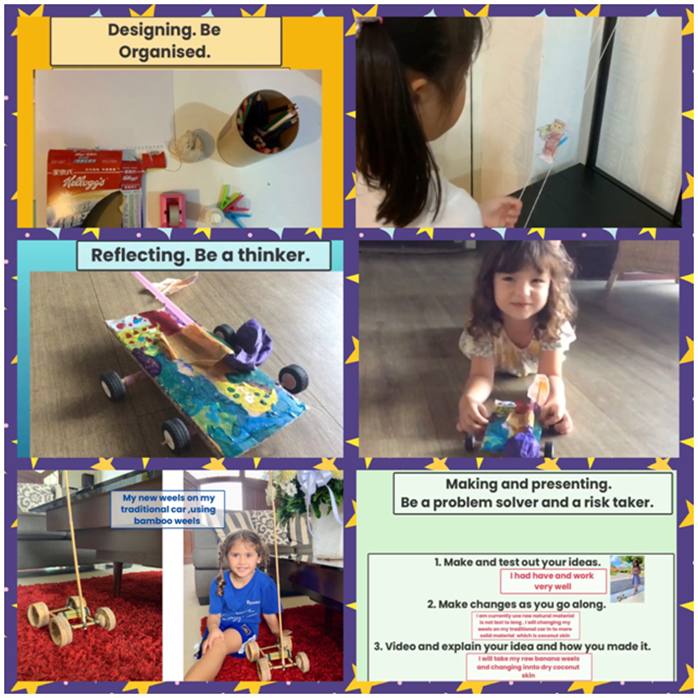 Siska Paramitha & Suellen Fuller – Preschool Teachers