Secondary Newsletter 9 – October 9, 2020
Creative Writing in MYP Language & Literature Classes
Counseling
University Counseling
Virtual Fairs
Virtual Events
The Arts
Creative Writing in MYP Language & Literature Classes
Students in MYP have been working on their creative writing skills this term.  Students used descriptive language, figurative language, and characterization to create compelling stories.  Please enjoy a selection of them below:
Grade 6 students have been writing their own Personal Moment Memoir.
Grade 7 students have been writing their own short stories.
Grade 9 has been playing around with various strategies for descriptive writing over the past term and one of the lessons was how to write engaging action scenes. Here are a few examples of chase scenes that we wrote in class. 
William Bergeron – Foot Chase Scene – The Unexpected Chase
The day was bright, the birds were chirping, and the trees were swaying back and forth, and my mind was aching from yesterday's deal of marijuana with an untrusted gang, I was constantly in fear of a raid since I knew from the beginning these people could not be trusted. The sounds of ambiance was suddenly interrupted by a couple of whispers that came from the door, "On three, two, one-" the door suddenly busted open, and what emerged from the shadows appeared two grown men, that were twice times the size of me, they threw their fist as I ran sliding under them.
The beam of light that filled my eyes from the windows were present in the hallway, and when my eyes were re-adjusting. I saw the army of men that piled up ready to come to me for a beating, as they came in, I took the opportunity to use the objects to my advantage to propel myself forwards. The men came at me at full speed, as I used the boxes that filled the hallways as a support to jump to the handlebar that reached the roof. As I reached the stairs, I knew more men would be waiting for me, and my quick thinking decided that I had to take the chance of jumping through a window on top of the door that lead to another room, the footsteps of an army of men got louder as an innocent couple gave me the stare of confusion on why I got here. Thinking that there was a balcony in the room, I opened the sliding door and jumped down another story whilst gripping myself on another balcony. The men's footsteps got closer as they came down the stairs, the short period of time that I had made searching for an elevator through the many hallways much harder, and by that my only choice I had was to jump through the window.
My heart started pounding, as the two previous men that crashed my door down managed to keep up, I ran straight to the single window that was present in the hallway and breaking the glass, I jumped closing my eyes and saw a rope that I could grip on, the two men eventually fell for their deaths in an attempt to climb the rope as well. I managed to latch on to the rope, and swinging from it, allowed me to push myself to another room, and hoping for the best, I was sure that I wasn't going to make it.
Caspia Nadapdab – Highway Chase Scene
Speeding down the highway on top of a lorry truck was me holding on for dear life. Out of the corner of my eye, I could see the police cars zigzagging to reach my truck. I was bent down, trying to think of my next move. Sweat was trickling down my forehead, but I couldn't be nervous, if I was they would get me. When the police car stopped just in front of my truck, I jumped like a kangaroo to another truck that wasn't going to be stopped. Landing was painful, my stomach hit the metal truck and I groaned like a kangaroo being shot. The police cars were relentless and quickly found me on top of the metal truck. I could see them standing over the bridge with their guns drawn and ready to shoot me when on my far right was another truck going the other way. In the split second when they pulled the trigger, I ran for my life and jumped as if there was no landing pad. I barely landed on the truck with only my fingers holding on to the edge.
Cynthia Brandt – Highway Chase Scene
I lay on the top of a blue truck as it carries me through a busy highway. I hear the loud, repetitive sirens of police cars driving in front of me. I saw them stop at the distance, the officers got out and signal the truck to stop. I was getting closer and closer to them, I knew I had to think of a way to get to the other lane beside me. Adrenaline rushed through my veins, the fear of reaching the police began to overcome me. I looked around my surroundings, I noticed a truck on the lane next to me, just then, an insane idea occurred to me. I stand up on the truck beneath me, desperately keeping balance. Without thinking twice, I jumped on to the other truck and landed on my stomach, the weight of my body veered towards the edge of the truck, nearly costing my life, thankfully there was a steel pipe I managed to grab onto. The roof of the truck was cold, but the feeling and comfort of the truck was the least of my concerns in this situation. I looked up, a new obstacle was in my way. The police were waiting for me on the overlapping highway just seconds from where I am. One officer pointed a gun at me, just then I knew I had to act quickly. The truck below me brought me closer and closer to my failure, just then another truck went past, it was on a separate freeway next to mine. "It's too risky" I thought to myself, but I quickly understood that I had no choice. I jumped onto the truck with a loud thud. My whole body rolled across the roof of the truck, I fell off. Luckily I managed to grab onto the truck before I landed on the busy concrete road. After lifting my body up onto the roof of the truck, it suddenly stopped. The friction tossed me onto the hood of the truck, the police were still chasing me. I jumped off the truck and ran. Each breath made me feel heavier and heavier, but I knew I couldn't give up. A motorcycle's roars were heard from behind me, once vehicle got within my reach, I quickly tossed the rider off the bike and drove away with it. The speed and size of the bike made me veer through traffic with ease. I finally escaped the cops.
Grade 10 students have been playing with using punctuation as a tool for adding flair to their descriptive writing. Below are some jamboards of student writing.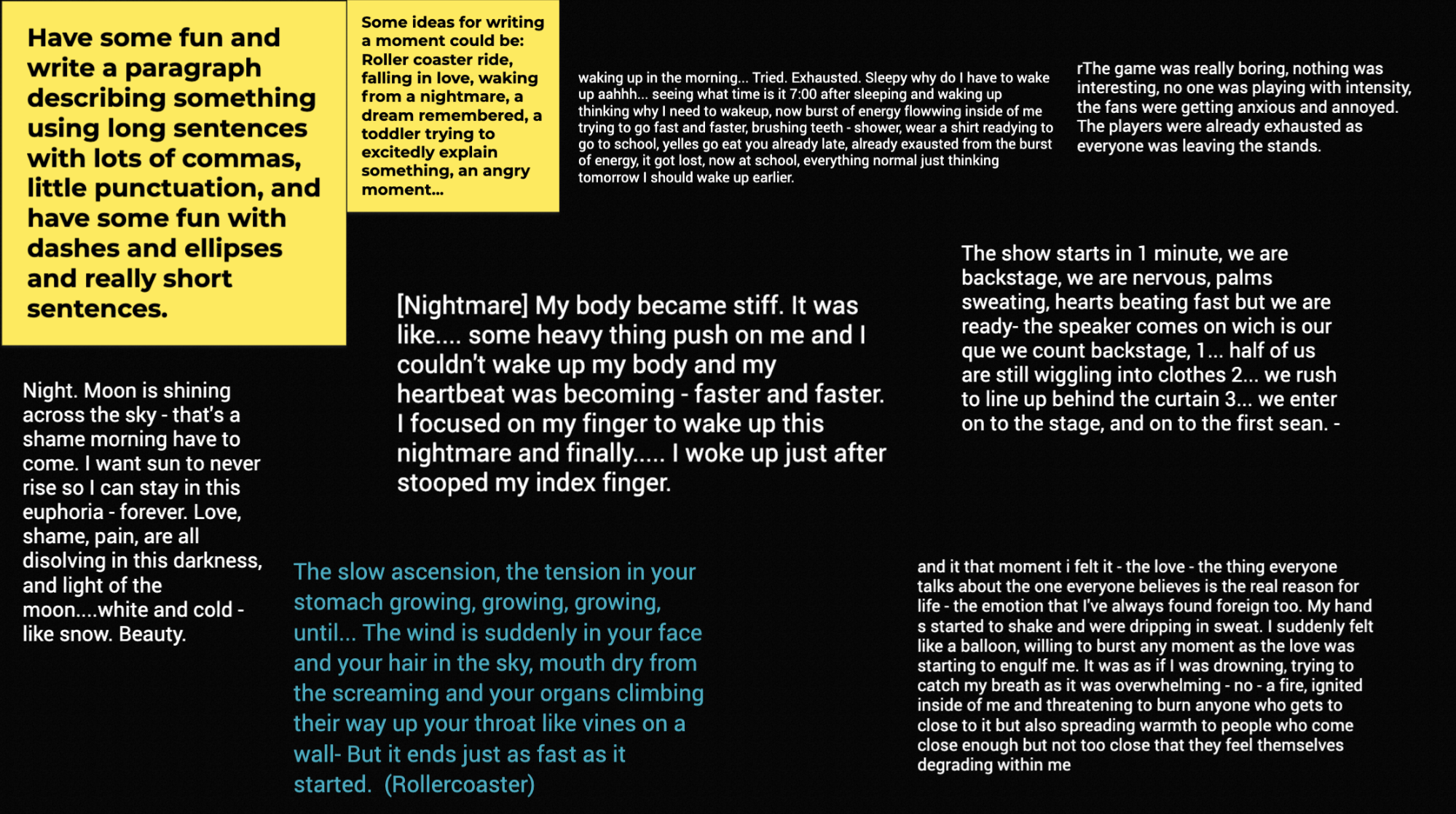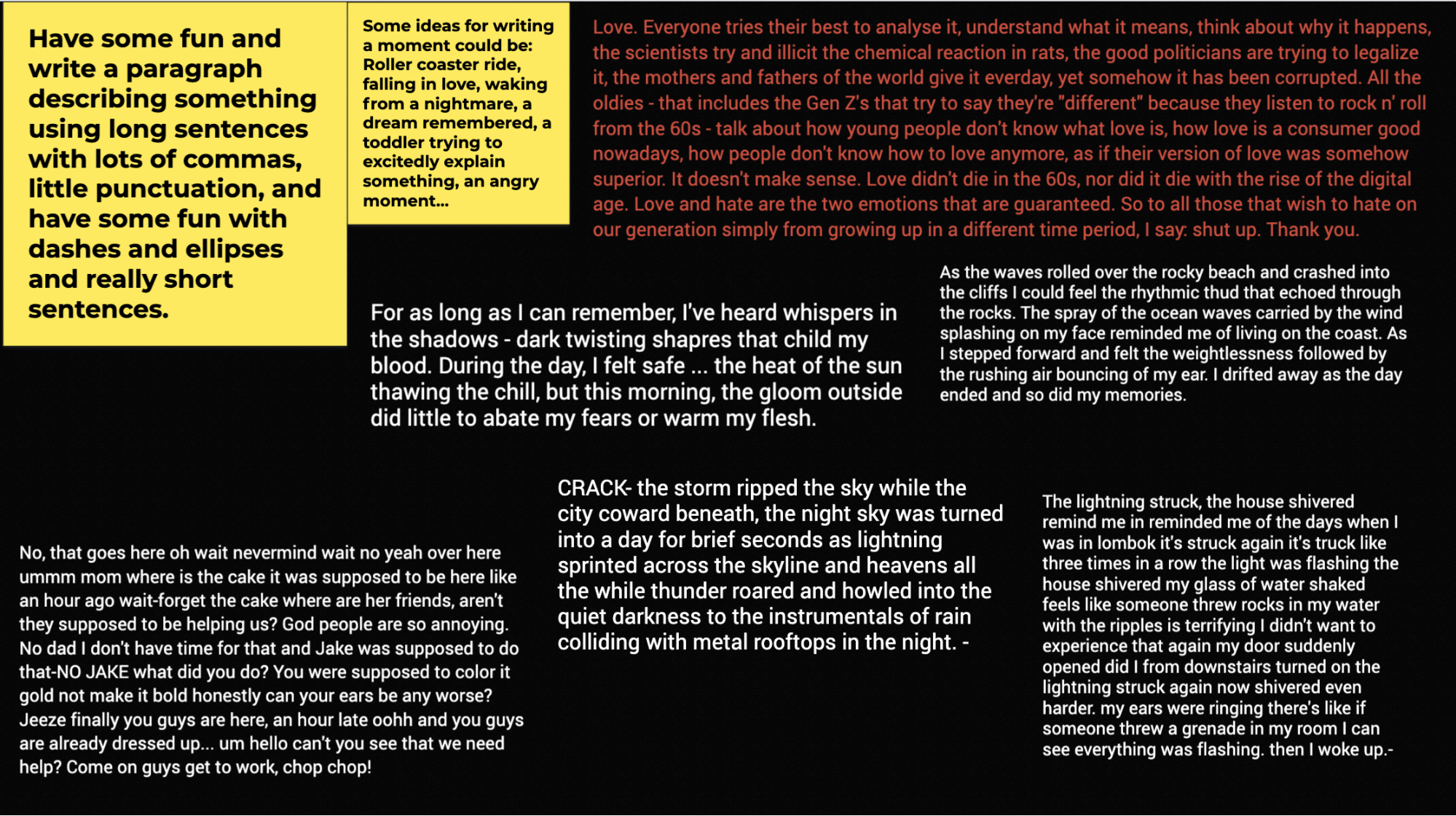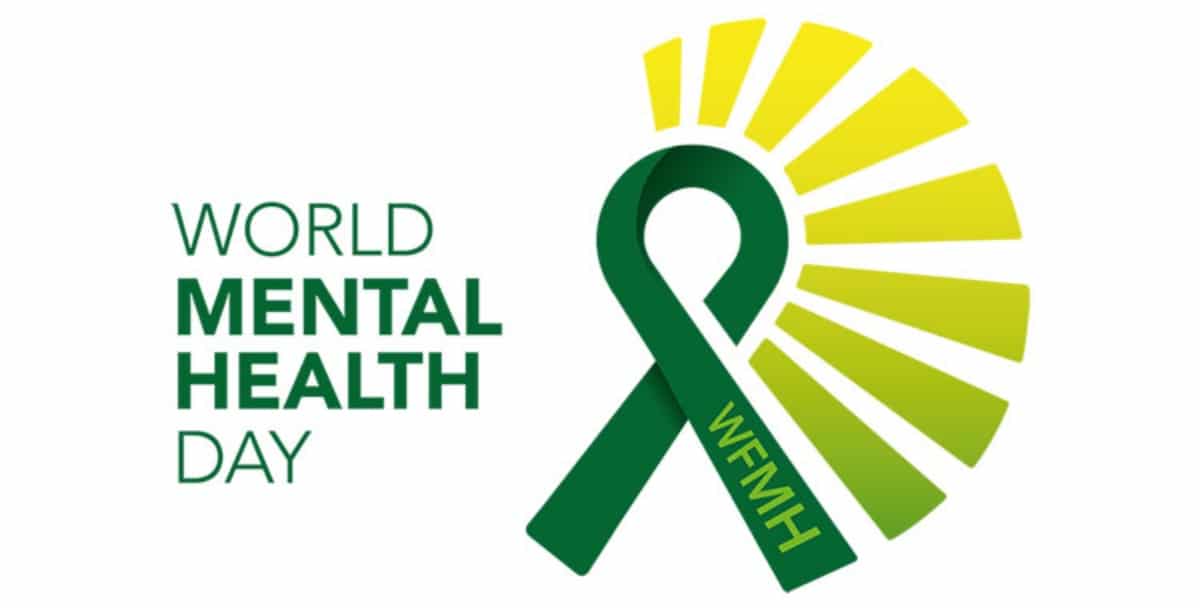 October 10th is World Mental Health Day. According to the World Bank Group, estimates show that at least 10 percent of the world's population is affected and that 20 percent of children and adolescents suffer from some type of mental disorder(2020). 
One of the essential elements of addressing mental health is breaking down the stigma surrounding mental health support. The way we talk about mental health in our homes, on social media, and in the community can positively or negatively impact a person's decision to seek help. Let's make it a goal at BIS to continue the work of breaking down the stigma. Referencing the National Alliance on Mental Illness, here are a few simple things you can do:
Talk openly about mental health with your family, friends, and community. 

Be conscious of language.
Call attention to people incorrectly describing a person's negative actions with mental health terms. Words I notice most often used negatively are depressed, bipolar, mental, and schizophrenic.
Encourage equality between physical and mental illness.
We go to a  doctor to treat a broken leg, cancer, and diabetes. Holding back from looking after our mental well-being can lead to physical symptoms when neglected.
Show compassion for those with mental illness.
Sometimes the simple things can make a difference for someone struggling with their mental health. 
Choose empowerment over shame.
I hope you've been fortunate enough to meet someone who openly shares about their mental health diagnosis, what it looks like for them, and how they manage their well-being. Support people to communicate openly with you.
Be honest about treatment.
If you go for support, let people know. Others might be inspired to follow your lead. 
University Counseling
Spotlight
If your teen is applying through CommonApp, here is an interesting way for the whole family to help with the brainstorming.
Registrations and deadlines:
Upcoming International SAT Test Date & Deadline
How to Register for the SAT

Many universities in the US are moving away from SATs, not only due to COVID. If G12 students explore US universities and see that testing is optional, this means the university no longer weighs testing as necessary. If students take the SAT and score at the top, it could be helpful as a further indicator of achievement. Universities recognize that grades, especially DP grades, better reflect university success than a one-off test.
Virtual Fairs
EduCanada Virtual Fair 2020 – Oct 10th
BridgeU and BISC Fair – Oct 23 – 28
The British International University Fair – Oct. 28th
Meet 20+ Dutch universities at Virtually Orange!  – Nov. 8th
Virtual Events
Schools are offering virtual visits to their campuses. As they contact us, we share it with you. If your family is interested in specific schools, you can also look at the websites via Bridge U.
TMC Academy, Singapore
Exciting Opportunity at DePauw University
Scholarships Available at Ohio Wesleyan University
St. George's University (SGU) School of Medicine
Updates from Trinity College Dublin
Resources
UCAS Application Support
List of scholarships for international students
Guide for International University Admissions
BridgeU Supporting your child through the application process (G12 should have shortlists completed.)
BridgeU tips for parents of 2021
BridgeU tips for parents of 2022
The Arts
Grade 6 & 7 Art classes (Visual Arts, Drama and Music) have been busily preparing for their upcoming event, 'Sharing of the Arts'. The event will take place on Thursday, November 12, 4 pm. More information relating to the format will be provided soon, but in the meantime please save the date and time.
This is a big occasion for the students sharing their Art as it marks the end of the first Arts rotation for this academic year and the second rotation will commence on November 15.
Grade 8, 9, and 10 classes will share their end of semester pieces on December 3.
Grade 6 & 7 Drama students have been working on their Damsel and Hero recording pieces. It is a part of the stock characters in a Melodrama. 
Students demonstrated wonderful creativity and great problem-solving skills in overcoming the challenges presented in collaborating and performing online. Here are some pictures taken from the video recordings.
They explored the use of placards to narrate their stories as well as performing dialogs. They were able to use any available resources at home and creatively made them into props.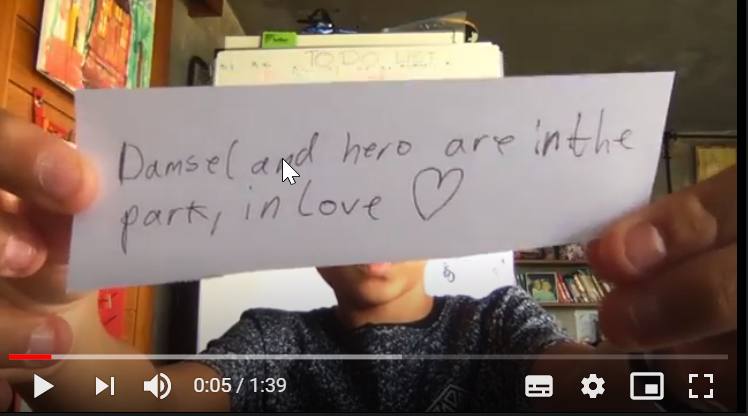 They practised how to show emotions in an exaggerated way through facial expressions, gestures, and body language.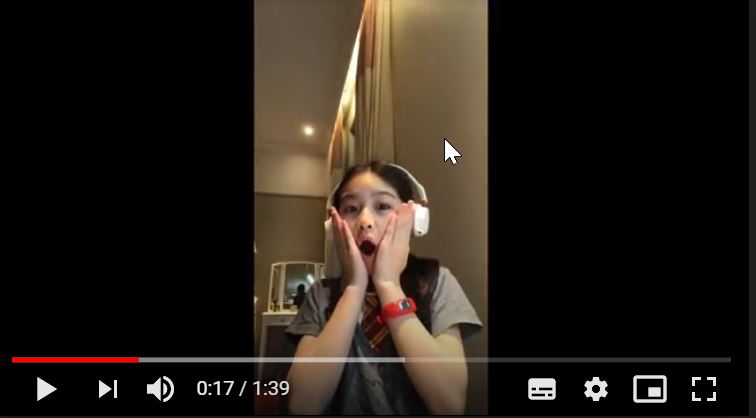 They also practiced stylized fighting scenes virtually. One of the challenging parts of this activity was to perform direct interactions in an online forum. However, they found a way and the results are very promising.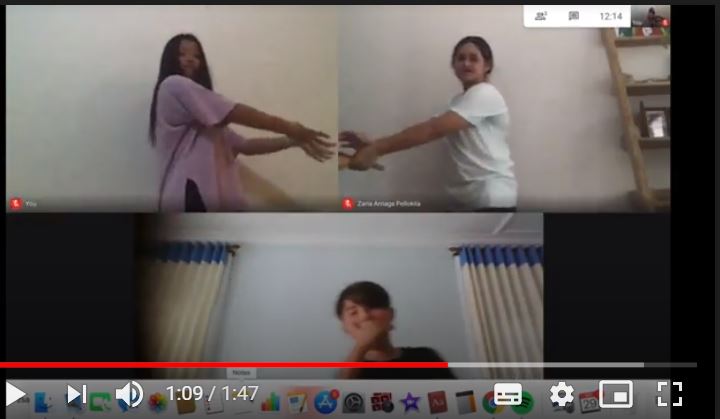 Grade 6 and 7 Music students have been exploring the discovery of 'Rock n Roll' in the 1950s, and the impact it had on society. 
They have been rehearsing songs from our 'Rock n Roll' repertoire online and here are some photos. What a wonderful assortment of instruments we have in our group!
Original Improvised Work by Grade 11 Theatre students
Do you need tension? In theatre and acting – absolutely! Tension is that extra spice that sparks a scene into life. In this part of the DP Theatre Course year 1, students were introduced to 7 Levels of Tension technique developed by Jacques Lecoq. Students studied each level of tension and then created original mini-performances. They had the creative and artistic freedom to improvise a scene, its context and setting, so long as they were moving through each of the levels and clearly embodying different degrees of tension. Check out their creative and original work! Kudos for creative confidence in the context of virtual/digital theatre!