PTA eNews Updates – October 30, 2020
Quote of the week:
Expect nothing, appreciate everything! 
PTA Blood Drive – Thank You 🙂
Well done & thank you to those of you who had participated in our PTA Blood Drive on Tuesday, October 27th. It was a great success with around 35 participants and 25 blood packs which is better than last year. Yeahaaa! 
PTA Influenza Vaccine – Vaccine Stock
Reminder for this Monday, November 2nd, we have PTA Influenza Vaccine. Recommendations from the WHO are to vaccinate this year more than previous years due to Covid. We will provide this vaccine from Kasih Ibu Hospital. We would like to apologize for the inconvenience, Kasih Ibu Hospital has miscalculated the ability of Fluquadri vaccine stock and does not have the amount we need. We have checked with BIMC, SOS, Siloam Hospital and Bali Royal Hospital and they too have run out of stock. However Kasih Ibu Hospital is able to provide Vaxigrip vaccine which will cost 355.000 per injection. For more information about the difference between these two vaccines please click the link below this link for the letter from Kasih Ibu Hospital.
Please send your confirmation to Ibu Surya (nurse@baliis.net)  as soon as possible if you still would like to continue to join the flu shot on November, 2 2020 at the Covered Court. 
LINK TO SIGN UP FOR THIS INFLUENZA VACCINE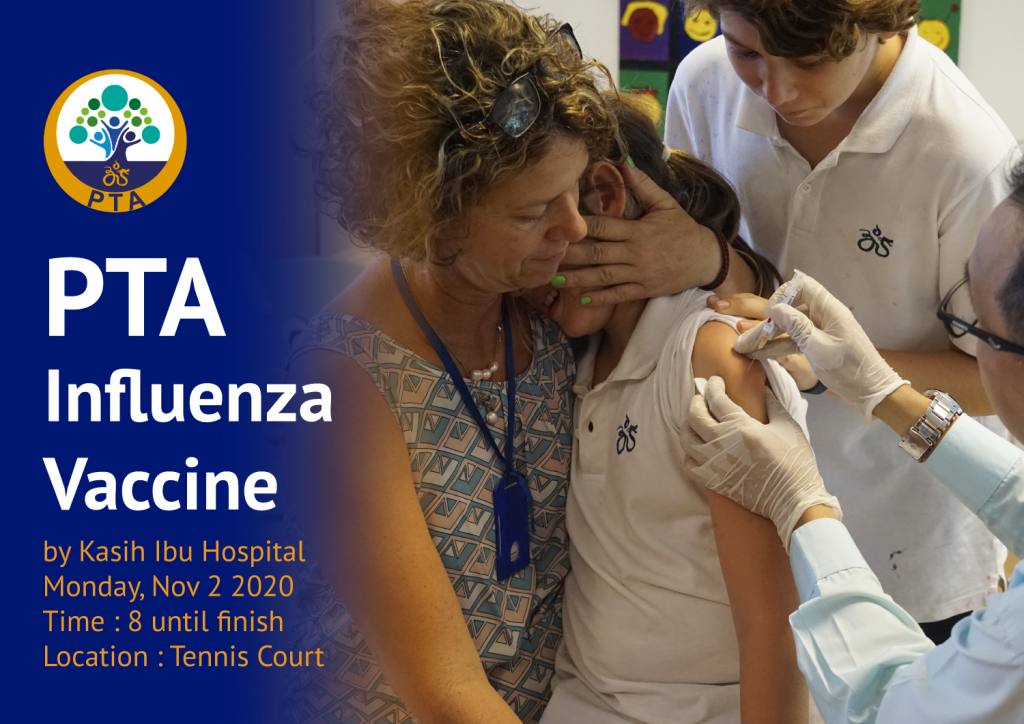 Halloween Cookies
The Halloween cookies were a hit! 30 boxes sold in 24 hours..! The cookies were handed out this morning in the front of school.. Happy decorating Everyone! 🎃👻
PTA Events
As you all know this school year will be totally different than previous years due to Covid-19. We would like to help out our community as much as we can during these difficult times. If you are in any sort of business and would like us to help you, please reach out to us and we will see what we can do – Whatsapp +62.81.805503125 
Have an awesome weekend, jump off those gadgets and enjoy some outside time!