Secondary Newsletter 31 – April 23, 2021
CAS Corner by Libby Moss
SOS Food Drive
Virtual Bali Math Competition (BMC)
Counseling
University Counseling
CAS Corner by Libby Moss
Bali Bird Park Project
Description and Goals :
The Bali Bird Park is a tourist attraction with a large collection of Indonesian birds. One way they showcase these birds is through bird shows, and until now, although the bird shows were very informative and entertaining, they lacked a message. Recently, they have been developing their 'fighting extinction' campaign, which promotes their rescue and breeding program as well as their 'practice less plastic' campaign. Their plan for the year is to rewrite the scripts for the bird shows to promote these campaigns and encourage the audience to get involved with the issues the bird park is fighting against.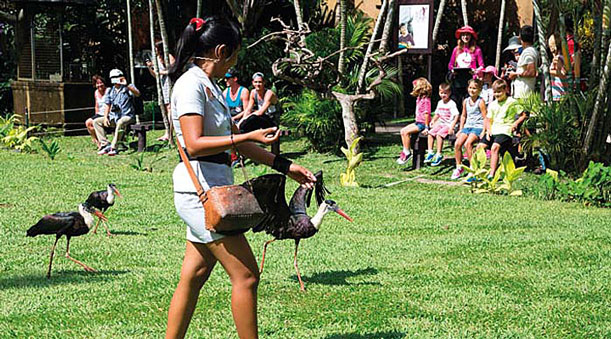 For my CAS, I work with the head of customer engagement, Purti, who writes the Indonesian script and the initial translation as well as the bird show hosts to develop the English version of these new scripts. The process includes going through the scripts several times, changing the wording, and adding statistics, anthropization, and humor to keep the audience engaged. We also take videos and act out these scripts to see what it would sound like in a show, then make improvements.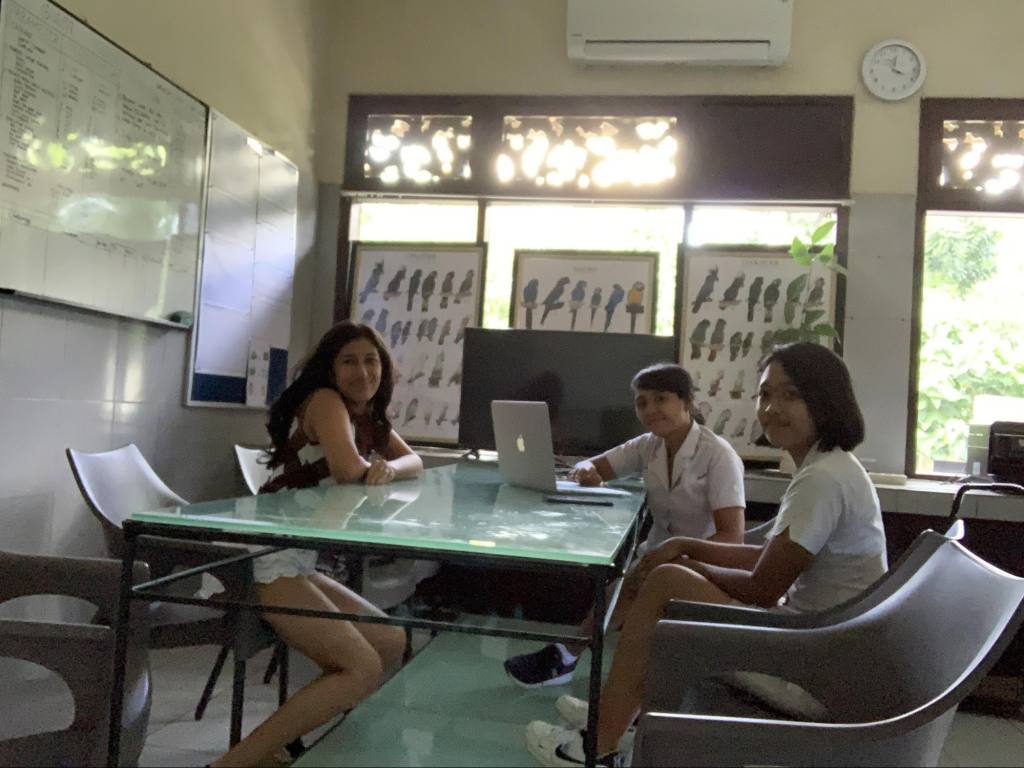 Learning Outcomes:
Demonstrate that challenges have been undertaken, developing new skills in the process

Demonstrate the skills and recognize the benefits of working collaboratively

Demonstrate engagement with issues of global significance
Impact :
Although I am not finished with this experience, it has already had a great impact on me.  Working at the bird park has taught me a lot about tropical birds and how they are maintained in the bird Park. I have a better understanding of what goes on behind the scenes of zoos and parks and I have also grown to appreciate the birds I hear in the forests and near my house more. Furthermore, I have a broader perspective of how human activity is impacting birds around the world, and the endangerment or extinction of some of these birds would impact our lives as well. For example, the Wreathed hornbills along with many other birds, disperse seeds of the seeds from the fruits they eat, which grow in our rainforests. Without them, fewer trees would grow. 
I have also learned a great deal about the process of creating and developing bird shows and the skills used to connect the audience to the birds and keep them engaged. This has also allowed me to make connections to the persuasive and writing techniques I have learned in school and apply these to convey a message.

SOS Food Drive
The SOS SA team is holding a food drive for April 30 – May 7. Both secondary and primary schools will be participating.

Virtual Bali Math Competition (BMC)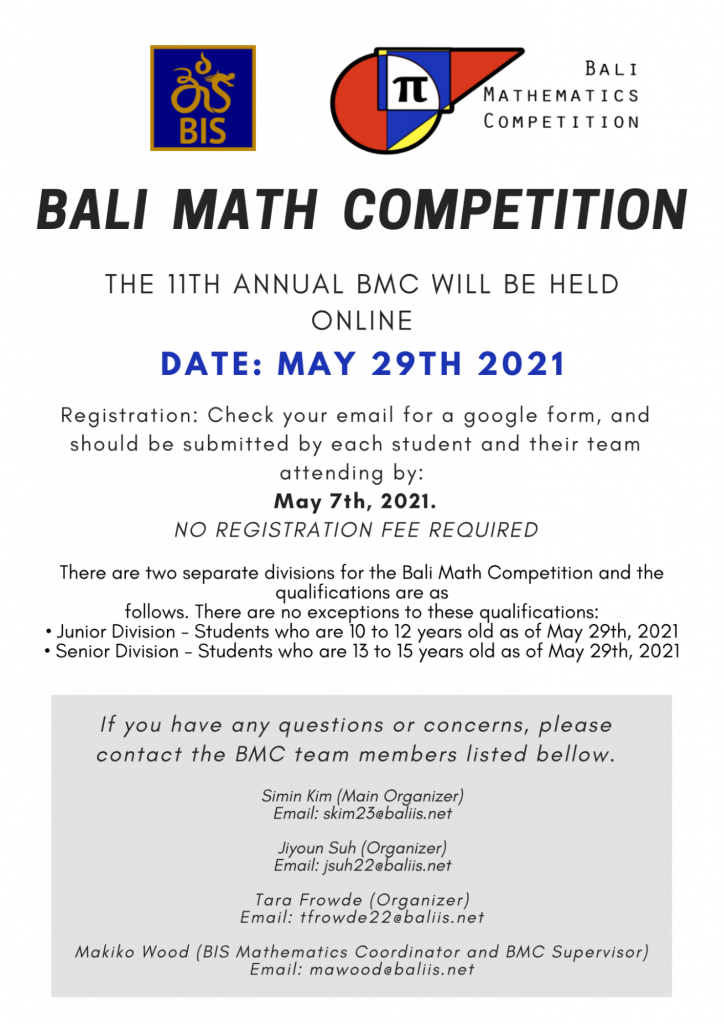 Counseling
The Grade 12s meet daily to learn some basics about how to manage life after they leave BIS and Bali. International school teens can be pretty adept in the airport, managing their passports, learning how to book flights and hotels, for example, compared to students who have not grown up in the Third Culture Kid world. We notice as international educators, though, that there are many ways in which BIS teens might feel ill-equipped for life outside of their bubble. The Grade 12s are learning everything from how to keep to a budget, create a meal, live in a city, manage their time, make friends and party safely, to how to operate a washing machine and iron clothes. 
In this article by The Scholarship System, they mention eight essential life skills your teen will need when you leave the nest. Don't wait until they are in G12 to teach these skills. The earlier they learn, the better. Provide a shopping list and ask your teen to try to buy what's on the list with a set amount of money provided. If you are making a simple meal, take the time to teach the steps. Then have a competition to see who in the family can create the tastiest, yet cheapest meal. Get them in the habit of waking up to their alarm and preparing their breakfast. Consider if your teen has ever taken a pile of laundry to a laundromat and done a load of laundry. If you visit a place with public transport, do they ever figure out the ticketing and best route? Have they ever paid a bill or done any work to make a bit of spending money? Do you ever discuss worrying behaviors in movies, shows, or news articles and share what you would have done differently in that situation while inquiring what they would do?
Having a head start on learning life skills will truly put your teen ahead of the pack when they venture out on their own. 
University Counseling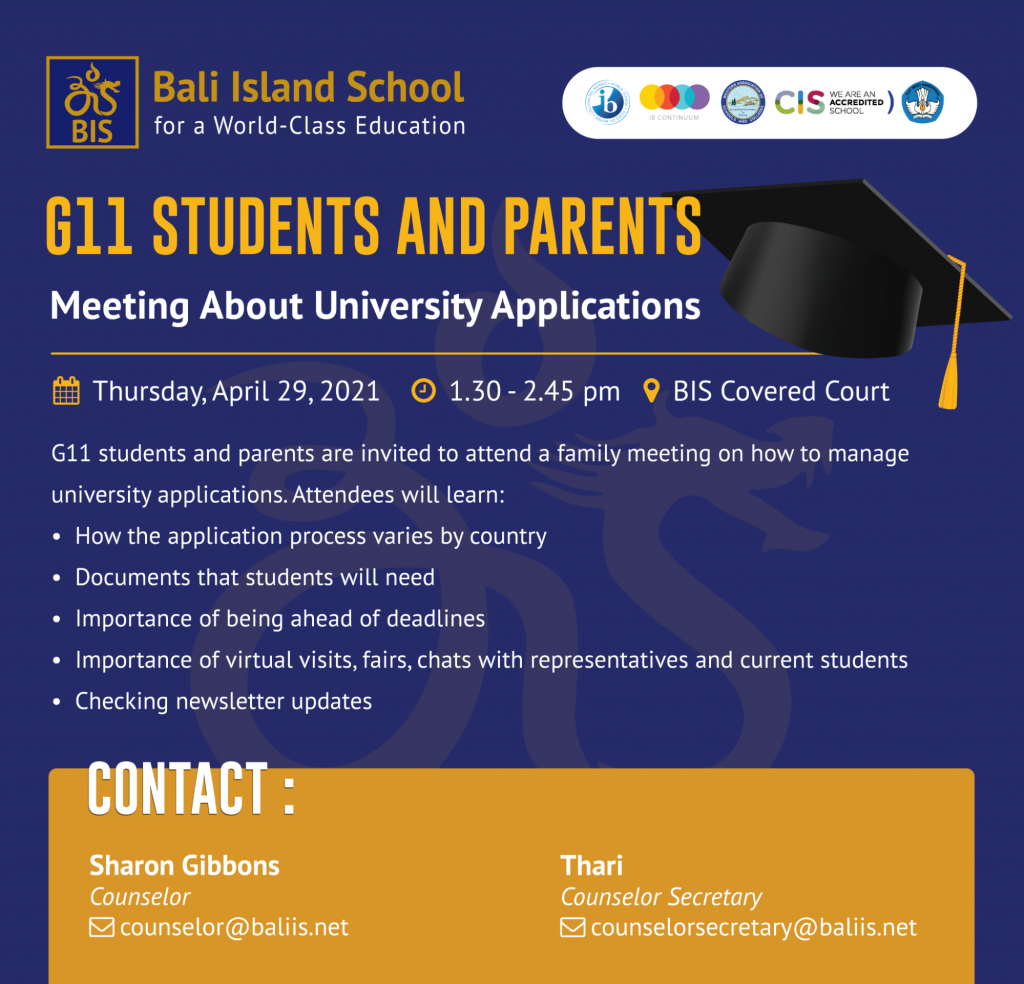 Upcoming International SAT Test Date & Deadline


Summer Programs
Attending summer courses are a way for students to get a taste of what university life might be like while exploring potential careers.
InvestIN Summer Future Internships for ages 12-14 in London
InvestIN Summer Internship Program for ages 15-18 in London
Washington University in St. Louis for HS students
Drexel University for HS students
The New School Parsons Paris Fashion & Luxury online courses for HS students
Paris College of Art for 16+
Pace University  pre-college immersion program for 16+
Pratt Institute design-related summer information sessions
Summer Discovery Programs for MS and HS students
Glion competition (Deadline April 23)
Imperial College London global program
Stanford University Stanford Environmental & Water Studies Scholars Program Scholars Program 
Stanford & MIT High School AI Summer Program (Deadline April 30)
Stanford & MIT Middle School AI Summer Program (Deadline April 30)
Stanford & MIT AI in Healthcare Summer Program
EU Business School in Barcelona 
USC School of Cinematic Arts  (Deadline June 18)
UC Berkeley virtual 
Les Roches 
EHL summer courses
A virtual summer series Colgate University, Bates College, Claremont McKenna College, and Wesleyan University
University of Rochester Pre-College online program
EDGE Summer Programs 
University of Bath, UK 
Study Pharmacy at Queen's University Belfast
Scholarships
Discover US Universities: Virtual Scholarship Information Event (April 23)
Scholarships for International Students
Scholarships for International Students by Everett Community College
International scholarships for undergraduate students at University of Kent
Les Roches Hospitality's Next Disruptor 2021 (Deadline June 25) 
Virtual Events
Dalhousie University Virtual Preview Day Session (April 19-30)
Inspirit AI Workshop for HS and MS Parents on Summer Activities During Covid (April 24)
City University of Hong Kong's International Virtual Open Day (April 24)
The University of New South Wales Virtual Live Talk in Business and Engineering (April 28)
Creative Innovation & Imagination Bootcamp: The Walt Disney Way  (Deadline April 28)
Annual Canada Pre-Departure Orientation for Students in Indonesia  (May 01)
Navigating Reports & Data with BridgeU (April 28)
BridgeU North American Showcase (April 29)
BridgeU UK Universities Showcase – Part One (May 4)
BridgeU An Introduction to International Scholarships & Financial Aid (May 5)
BridgeU UK Universities Showcase – Part Two (May 6)
Resources from BridgeU
15 questions to ask when choosing a university
Guide for International University Admissions
Supporting your child through the application process
Tips for parents of 2021
Tips for parents of 2022