Secondary eNews – October 21st, 2022
Science Department
The science department welcomed back students this year to our classrooms and was able to start the year with positive in-person experiences. Science is a very hands-on subject and having students in our labs is vital and exciting again. We sampled some of the work in the MYP and DP for science classes. See some of those experiences below! 
Grade 7
The Grade 7 Science students studied matter, atoms and elements. They "adopted" a chemical element and researched it, leading to the production of a scientific poster. Subsequently, they deepen their studies on atomic models, structure of the elements and the periodic table.
Grade 9
The Grade 9 Science students have been dedicated to the study of waves and motion. They designed and conducted experiments to observe, analyze and discuss wave concepts using slinkies that allowed them to apply science to real life.
Grade10
10th grade Science students have been dedicated to the study of climate change. They designed and conducted experiments to observe, analyze and discuss the effects of the greenhouse effect and sea level rise due to global warming.
DP Sciences:
Biology, Chemistry, Environmental Systems and Society, and Physics have all had a great start to the year.
Grade 12 students have been all working on their Internal Assessments that are due this semester. They all have had to research and develop their own experiments to explore a topic of their choice in the respective courses. Examples of these include the change in enthalpy of an endothermic reaction and the rate of enzymatic browning in apples measured by colorimetry. Diverse and unique ideas are explored by our students! Very proud of them. Now they have the hard work of turning their findings into an assessment paper. 
Grade 11 students were welcomed to their respective DP courses and initiated the long journey ahead of them these next two years. The beginning of sciences in the DP is always a large shift and students have risen to the challenge. Though stressful, they have started gaining the knowledge and skills they will need to progress through the coursework. 
Pictured below: Grade 11 student working on how to prepare stoichiometric calculations in Chemistry. This is foundational work that is necessary for all the remaining topics in class. (they divided themselves into groups to compete against each other, I won't say who won). 🙂
"Chemistry students be doing chemistry!" – Mr. Ingram
Grade 12 Chemistry started their IA experiments this past term and spent A LOT of time getting their experiments to work. Super proud of their perseverance!
Pictured below: Biology students in Grade 12 have been learning about human body systems. In true Biology class fashion, students performed a dissection of mammalian hearts this past term. It is almost a rite of passage in Biology to do dissections. 
Science Quote of the Week:
"An expert is a person who has made all the mistakes that can be made in a very narrow field." – Neils Bohr 

BIS University Fair 2022
On Thursday, September 29th we were hosting our first back in-person BIS University Fair after 2 years. We have more than 40 university representatives from 13 different countries from all over the world; Singapore, Japan, Indonesia, Australia, USA, Canada, UK, Netherlands, Switzerland, Germany, Spain, Ireland, France. Our students and students from 4 other international schools had a great experience to have conversation with the representatives from all the universities during the Fair and the workshop session. We received lots of positive feedback from the students and university reps. Thanks to all the parents who supported their children and started the conversations with the universities. This personal contact can be very important for applications in the future.
Upcoming ACT Test Date and Registration Deadline 
Login/Create MyACT account to register
Upcoming SAT Test Date and Registration Deadline 
We still have a few spot available for register SAT on December 3rd
Update from AP Exam School Year 2022-2023
For students in grades 11 and 12 who would like to register the AP exam in May 2023, please contact Ibu Thari in the Counseling Office at:  counselorsecretary@baliis.net 
The 2023 AP Exams will be administered in school following the regular schedule in May 2023: May 1–5 and May 8–12. Registration deadline November 15th, 2022 – additional fee applied to each exam for the late registration
More information about AP Exam:
AP Online Courses and Exams (

Web

)

Register for AP Exam

(Web

)

College Board student account help (

Web

)
Update from Counseling Corner Site
Nagoya University, Japan | Join October- Nov Webinar How to Apply International Program

Digital SAT Webinar for International Students and Their Families, October 27-28

College Board: Preparing to Study Abroad – A UniTalks Webinar on November 4

European Higher Education Fair (EHEF) Indonesia on November 5-9

Upcoming webinars from the University of Oxford: student webinar preparing for Oxford interviews 9th/10th November
For more updates, please visit
Counseling Corner at BIS
Info for Parents
Invitation for Parent : Success Beyond School 
How to coach teenagers towards a successful career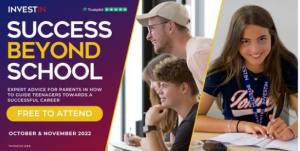 We are delighted to announce the first events in our Success Beyond School series for this academic year. These are live online seminars featuring career experts, designed to help parents amplify their children's career potential. The events are for parents of students aged 12-18 and are free to attend.
12th October: Making it in Medicine
Expert advice on how to get into medical school
16th November: Future-Proofing Students
Preparing students for the jobs of the future
30th November: Finding a Future in Finance
Gaining the skills for a career in Finance 
We are indeed delighted to invite your institution for  'Singapore International Science Camp' (SISC), an Advance Science program conducted in Singapore which will held On-Campus at National University of Singapore in Dec-22.
SISC is specially designed for the students from Grade-9 to Grade-12 to showcase the developments in science and build insight into technologies and scientific developments that will transform our future.
Counselor Workshop Series 
Thursday Coffee with the Counselor 
Join Ms Noortje every Thursday morning at 7:45 (droff-off) for a coffee and informal chat at Fun Bites*
*Except first Thursday of each month