Secondary eNews – March 17th, 2023
ARTS DEPARTMENT
Grade 10 Music Field Trip
On Monday, March 13, the Grade 10 Music class made a special visit to Gede Robi Supriyanto at a shared workspace next to his home in Ubud. Pak Robi is the lead singer in one of Indonesia's most famous rock bands Navilcula. 
The workshop was an exciting opportunity to explore the processes involved in creating music and utilizing creativity to drive positive change in society. Students in grade 10 are aiming to use some techniques explored in the workshop when they compose music inspired from themes in novels in the Art & English Interdisciplinary Unit next term.
Here are some photos from the workshop.

Grade 6-7 Arts Sharing
Last Friday, students from grades 6 and 7 shared their achievements in the Arts. As the second rotation in the Arts came to a close, the students presented works of art and dramatic and musical performances from their units of study.

Jazz Workshop
Students in grades 6 and 7 were also treated to a special jazz workshop and performance by Professor Tom Knific and Professor Lisa Sung from Calvin University. The discussions and musical communication was highly inspirational for all present to enjoy.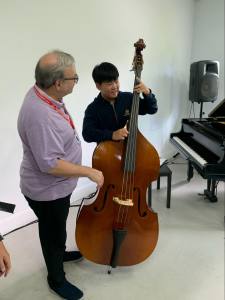 Battle of the Bands
Congratulations to Taipan (Sage, Kai, Calum, Sam & Tata) for winning the coveted prize of the best band at the Bali Inter-school Battle of the Bands at Dyatmika last Thursday night.
It was an incredible evening and both bands BIS were simply amazing, with Xscape (Seo-Yeon, Se Bin, Ellia, Youngmin, Jackson) also putting on a great show.
Some individual awards also went to BIS students.
Ellia (Grade 9)– Best singer
Sage (Grade 12) – Best bass player
Sam (Grade 11)– Best guitarist
Once again, congratulations to all involved and thanks to those that came out to support the talented BIS musicians.
PERSONAL PROJECT EXHIBITION 2023
March 10, 2023 – A message from Ms. Jennifer, MYP Coordinator
Congratulations to the Grade 10 students for the exceptional presentation of their Personal Projects last Friday! The Personal Project is the capstone of the Middle Years Programme (MYP) for Bali Island School students, and Friday's Exhibition was their opportunity to proudly showcase the results of the learning goals and product goals they set for themselves almost a whole year ago.
As the MYP Coordinator, the Personal Project Exhibition marks a very proud moment for me. It highlights the impressive range of skills and interests our Grade 10 students possess. Students have engaged in significant self-reflection and exploration of their interests throughout this journey, enhancing their understanding of themselves and the world. They have also demonstrated critical thinking, problem-solving, creativity, communication, perseverance, and resilience – all of which are essential skills for survival in the 21st century.
This year's Personal Project Exhibition was held on campus mask-free and with free movement for the first time since Covid-19, giving students the opportunity to present their work to their peers, parents, supervisors, and teachers, all adding to the energy and excitement. The projects were diverse and imaginative, with students showcasing new skills in areas as diverse as poetry, sustainable energy, Balinese architecture, organic punch bags, and dioramas. The resilience, independence, and determination of our BIS students were on full display as they spoke confidently, passionately, and knowledgeably about their products and their process.
To all Grade 10 students, CONGRATULATIONS on completing the Personal Project journey! We wish you good luck in the coming academic year and the Diploma Programme, and we know that having conquered the Personal Project, you are well-poised to tackle the learning to come. We believe in you!
BIS Wins 6 Awards & Entire Delegation Performs Admirably, Dominates Bali Model United Nations 11th Annual Conference
By any objective measure, BIS were the clear winners at the Bali MUN XI conference at The Green School this past weekend. Not only did BIS win 6 awards including 4 "Best Delegate" Awards (which includes Best Overall Delegate of the entire summit) but the entire delegation, which included 2 Chairs, 20 Delegates and 7 paiges were professional, amiable, informed and intellectually prepared to debate, caucus and propose resolutions across 4 different committees. 2 BIS paiges even "became" delegates during the conference, as they filled in for sick or missing delegates from other schools.
Please congratulate our entire delegation on a job well done; they've been doing this CCA since November, which included homework!

The award winners are as follows…
Best Overall Delegate, Security Council committee- Caspia Nadapdap, Delegate of Iran
Best Delegate, Security Council committee – Dzul Helmi, Delegate of Australia
Best Delegate, SOCHUM committee – Haila Rahman, Delegate of Turkey
Best Delegate, ECOFIN committee – Eduardo Perera Guzowski, Delegate of Australia
Best Position Paper, World Health Assembly committee – Lilly Huelsmann, delegate of Brazil
Best Position Paper, Security Council committee – Maulin Rawat, delegate of Democratic People's Republic of Korea
Indonesian Studies: The Significance Of Ogoh-ogoh In Nyepi Day Celebration
March is the month where Nyepi (silent day) celebration will be held in Bali. On Thursday, 16 March, during MYP Hour, the Secondary School held an Ogoh-ogoh workshop. Ogoh-ogoh is a giant statue in the form of a scary creature that is usually made by the youth in Bali to be paraded the day before Nyepi. Ogoh-ogoh symbolizes bad spirits humans can turn into if they can not deal with the negative things around them. 
The workshop was led by a guest speaker, Gus Manik and his team. He is an Ogoh-ogoh specialist from Denpasar. He has years of experience of conceiving and creating ogoh-ogoh with different themes and shapes. He shared his knowledge about the concept of Ogoh-ogoh and its creation process. 
The workshop let the students experience collaborative work to finish the ogoh-ogoh. They added color to the statue, installed the body parts (head, hand, and feet), made its accessories, decorated it with clothes, and gave some extra creative touches. Thank you to all BIS students, teachers and staff who got involved in this lat day of Term 3 event. A special thanks to the judges, Pak Agas, Mr. Marshall, Ibu Indira, and Mr. Andrews.
Rahajeng Nyepi Caka 1945. Selamat Merayakan Hari Raya Nyepi Saka 1945. Semoga damainya Nyepi membawa ketenangan dan kebahagiaan. Happy Silent Day to our Balinese Hindus families.

COUNSELOR UPDATE

Upcoming ACT Test Date and Registration Deadline
Login/Create MyACT account to register
Upcoming SAT Test Date and Registration Deadline
More info /create an account to register SAT
Thursday Coffee with the Counselor
Join Ms. Noortje every Thursday morning at 7:45 (droff-off) for a coffee and informal chat at Fun Bites* *Except first Thursday of each month when there will be a workshop

Other Colleges and Universities Update: