The Happening – Visual Arts Exhibition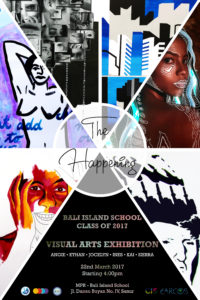 After two years of continuous hard work and creativity, the Visual Arts Class of 2017 will be displaying their masterpieces accompanied with live music, finger foods and refreshments!
The name of our exhibition 'The Happening' was inspired by 60s events of interactive art connecting the audience with the artist.
Our art reflects what's 'Happening' in the world today. We want to move away from the restraints of a traditional exhibition and have our ideas passed on through you to the rest of the world.
So come and be a part of our 'Happening' on Wednesday, 22nd March 2017, starting 4 pm at the Bali Island School MPR.