Primary eNews – Nov 25th, 2022
Primary Movie Night, hosted by Secondary StuCo.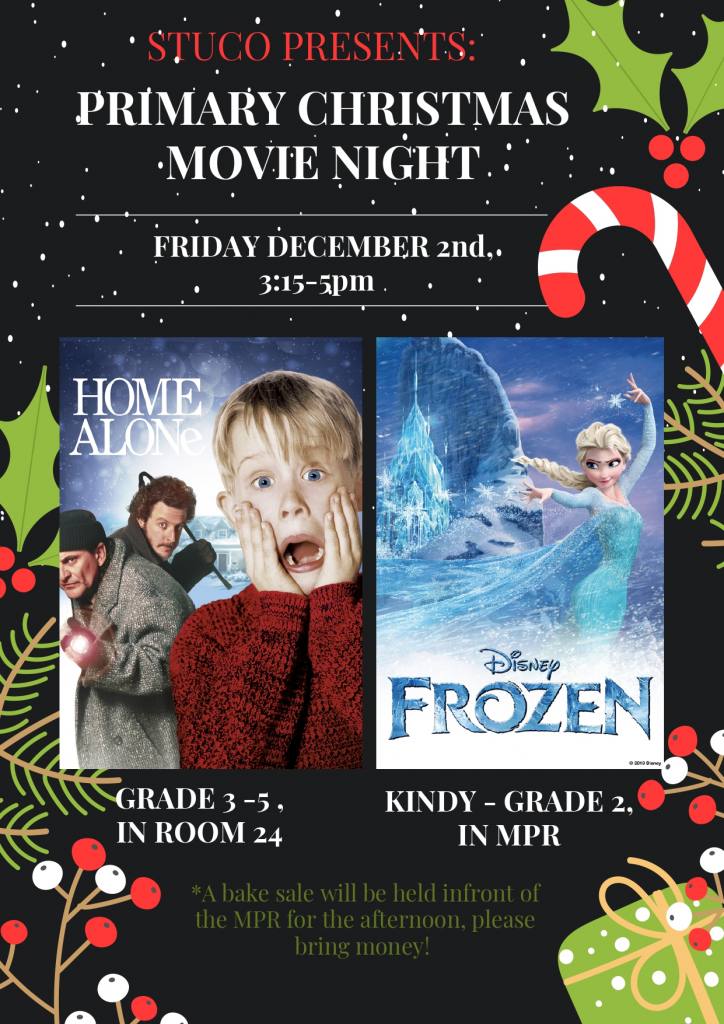 Hello Primary students, we would like to announce that on December 2nd the Secondary STUCO team will be hosting a movie night. Which will be held from 3:15 pm – 5:00 pm, for Kindergarten to Grade 2  will be watching Frozen 1 & Grades 3 – 5 will be watching Home Alone. Anyone that would like to watch these movies can purchase the tickets with Ibu Siska in Preschool class during morning, snacks/lunch and home time. Each ticket will be 15.000 rupiah. In addition, there will also be a Bake Sale happening in front of the MPR Room. Parents, guardians,s or drivers are welcome to wait outside the theatres.
Thank You – STUCO Team
Comics Plus e-book comic subscription is available through the Library

The Library has obtained a 1 year subscription to Comics Plus from a company called Library Pass. This is a quality collection of popular categories and titles of graphic novels including manga, nonfiction, dystopian, popular movies and Tv (Disney, Stranger Things, Star Wars etc) and well known comic titles like Bone, Big Nate and many more. It's truly a collection that includes books that fans of comics would actually want to read. This collection ranges in age from middle Primary up to Secondary. 
Please visit the BIS Library Resources website for login information, which is quite easy. Simply go to the Comics Plus website link or download the Comics Plus Library Pass app and log in with your (child's) BIS GMail account. That's it!
See Mr. Marshall for more information. 
Festival Dongeng International Indonesia – Storyteller Performance
Last Monday, November 21st, we had some visitors from Ubud Writer's Storytellers. They were Kak BudiBaikBudi, Kak Aio, Jeeva Raghunath & Kacak Kicak. This event was organized by a group of students from the London School of Public Relations and Ayo Dongeng International. The primary students were very excited to watch this storyteller's performances, they were laughing, clapping, and screaming while watching their performances. The sounds of every different character of the story were amazing with its own characters, and the students were so excited to learn many sounds from a storyteller. The students were very enthusiastic about answering the question of the quiz & the gift that they were given after each performance finished. At the end the students wrote on a paper the answer of "If you were in a Fairytale, What Character Would you be?". Thank you for being a good story audience. 
Indonesian Studies: Wayang Characters in The Ramayana Story
In Indonesian Studies class, the Kindergarten students learn how the story is told by using wayang kulit, the traditional shadow puppet show from Indonesia.
Wayang has been used to entertain and teach people about local wisdom since the 9th century on Java island. It was played particularly during the night on a special occasion. Nowadays wayang performance has been improved with the help of technology.
Before the online learning last week, Kindergarten students had been introduced to wayang and the characters in the Ramayana story. Most of them simply recognized the bad and good characters and were able to mention some general information about the characters.
This week they were given a chance to make their own wayang using paper. They may choose their favorite characters to be colored, cut, and played soon. 
The character Sita is the most favorite one among the girls, and the rest of the class show different preferences such as Rama, Laksmana, Ravana, Hanuman, and Jatayu. 
Here are some pictures of the activity in the class. (Ibu Ina)