Primary eNews – March 10, 2021
Primary Conferences
Conferences looked a little bit different this year, but students were still able to share many of the incredible skills they have gained through our distance learning programme. Our students showed that they could take responsibility for their learning as they took time to feedback and feedforward. Students carefully selected pieces of work that showed their learning and gave an opportunity for them to reflect on the knowledge and skills that they have shown or would like to improve upon. Taking time to reflect and share on themselves as a learner is a key skill in creating an assessment capable student that is able to reach their full potential. 
According to the PYP, by taking an active role in their own assessment, students analyse how they think and learn. They develop skills to move from being self-assessors to self-monitors, with the aim of becoming self-adjusters. (Learning and Teaching, IB)
When students monitor their learning, they can adjust their behavior, make corrections and implement improvements allowing them to grow. Students should continue to ask themselves the following questions as they grow and glow as learners:
What do I need to know?

What knowledge and skills do I need to develop in order to answer my questions?

What steps do I need to take to ensure that my learning exemplifies quality?

What further possibilities do I see?

How do I incorporate feedback to achieve my learning goals?
Thank you to all parents and students who participated in our Conferences this week. Students were empowered to discuss their learning and understanding with their parents and teachers, allowing for personal responsibility of their learning while being supported. Students, parents and teachers collaborated to identify strengths and areas for improvement. Thank you to our wonderful learning community for taking the time to be involved, sharing your feedback, and supporting our school in creating the best learning environment we can.
Term 3 Sudah Selesai in Grade 4
Thank you Grade 4 for celebrating your learning with someone at home. You can all be proud of your engaging and active term of learning. Here is a snapshot of how the primary conferences looked in Grade 4 this year (or here in our G4 youtube channel). Now that Grade 4 have celebrated and reflected on their learning, they will use Term 4 to work towards the goals that they have set for themselves. Yay!
Grade 4 have been inquiring into how images, text, and colours influence an audience. We have collaborated to analyse advertisements: the layout, who is the target audience, feelings they evoke and what do they make us think about. Now, we are in the process of gathering data from a wider audience, our BIS community. 
Using Google Forms, small groups have selected advertisements that appeal to them for different reasons and generated three (3) guiding questions to learn more about how colours, images, and text influence us as an audience. These forms will be shared, once they are completed. 
Thank you in advance for keeping an eye on your inbox and for helping Grade 4 to collect data. We will collate our data in mathematics, practising constructing graphs and reading information from graphs.
Have a safe and relaxing term break from Grade 4.  
Happy Nyepi Day, Saka New Year 1943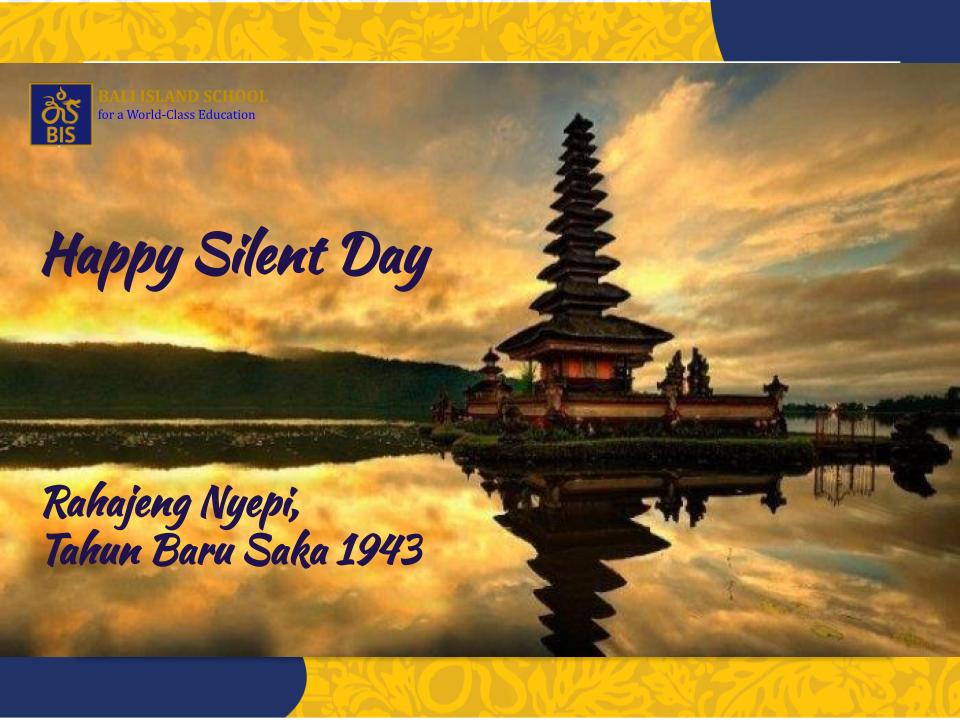 Balinese Hindu people will celebrate Nyepi or Silent Day on Sunday, March 14th 2021. This is also known as Saka New Year of 1943 for this year. These mandatory religious prohibitions include no pleasure (amati lelangon), no traffic (amati lelungan), no fire (amati geni) and no work (amati karya). There are many traditions to prepare before the day of silence on Nyepi Day. What is the most interesting thing about Nyepi is the Ogoh-Ogoh Parade on the Eve of Nyepi Day.  In normal years,  Ogoh-Ogoh are paraded in the streets, but this may not be the case this year due to coronavirus restrictions. Please see below for some photos of our Ogoh-Ogoh parade at the Covered Court last year.   
This link may be of interest to families who are new to Bali and haven't had the opportunity to experience Nyepi. We thank our students & families who are very kind to share the tradition of how they usually celebrate the Nyepi Day with their families through this video: